We love hearing stories about teams cooking on Yoders and winning, but this post in one of the Yoder Smokers Facebook groups really warmed our hearts. We asked Joey Machado if it was okay to repost this here, and he gladly obliged, sending us some more photos and telling us the story behind it.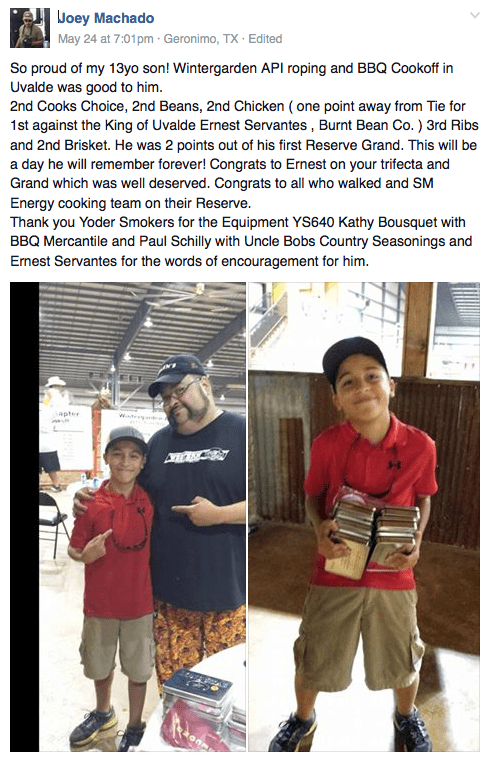 Joey Machado has been cooking competitively for 14 years and says the Yoder has made his life so much simpler. As a member of the American Petroleum Industry (API), he is responsible for running many cookoffs in the Central and South Texas region, so he hasn't been competing. Luckily, he's been grooming his 13 year old son, Ty (shown above with Ernest Servantes), to not only help him prep, but to carry on the family tradition of cooking. And winning!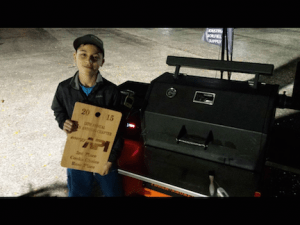 He has learned well and I am able to let him cook worry free knowing that the Yoder will do its job and not have to check up on him. He follows my recipes and cook times and is almost able to duplicate my products. Really, without the Yoder it would be almost impossible for him to be able to compete.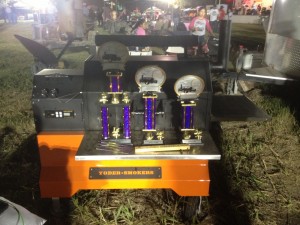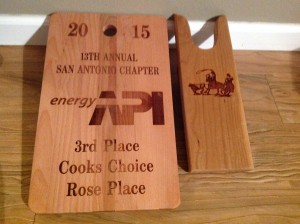 BEST SHOWINGS – all cooking on Yoder 640 all on same pit at same time
Carrizo Springs Texas- 2nd Annual Dimmit County Pit Master 2014 1st Chicken, 2nd Brisket and 3rd ribs
Del Rio Texas , API Wintergarden Chapter Bass Tournament and BBQ Cook Off 2015 1st Cooks Choice, 2nd Chicken and 2nd Ribs (all cooked and prepped by Ty)
San Antonio Texas, API San Antonio Roping and BBQ Cook Off 2015 3rd Cooks Choice , 2nd Chicken, 4th Ribs, 5th Brisket (all cooked and prepped by Ty) Cutting Board and Wooden Boot Jack
Zapata Texas , API Laredo Roping and BBQ Cook Off 2015 4th Chicken (cooked and prepped by Ty)
Seguin Texas, LULAC Cinco De Mayo Festival 2015 weekend before last 1st Chicken, 2nd Ribs and 3rd Brisket Beer Can Trophies
Laredo Texas, LAPS ( Laredo Animal Protective Society) 1st Annual Hogs and Dogs BBQ Cook-off (my 13yo son and I cooked together) 2015 this past weekend
1st Chicken ($400) 5th Ribs ($75) 5th Brisket ($75)
Next Cook Off 22-23 this month in Uvalde Texas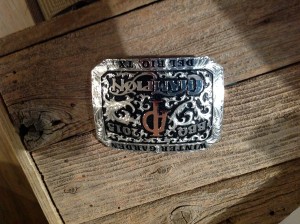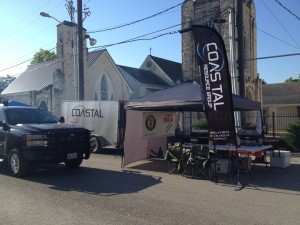 Thanks to Joey and Ty Machado for being a winning part of #TeamYoder!