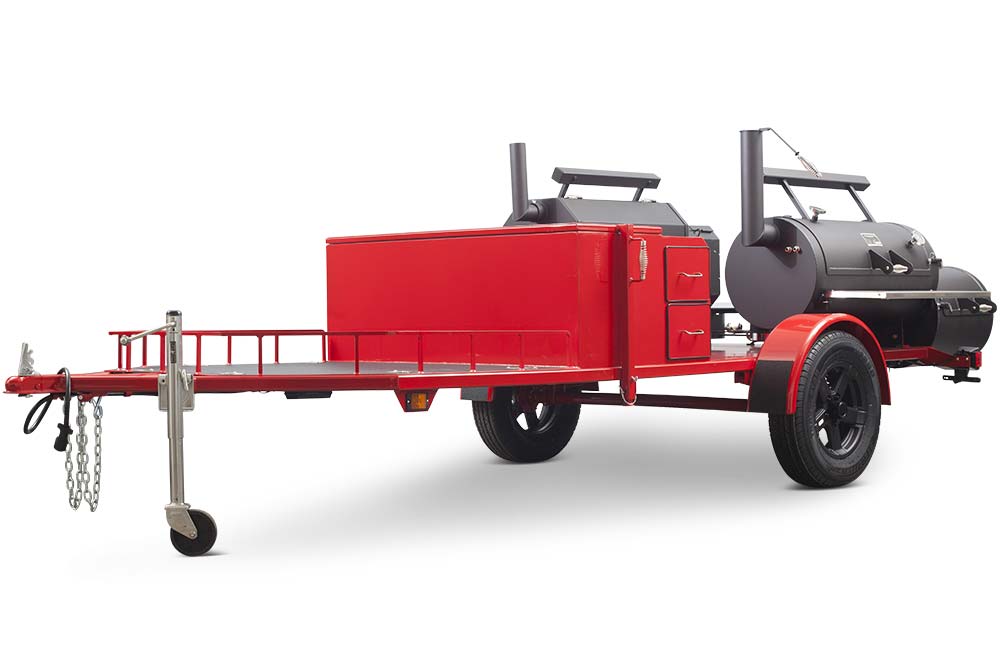 Santa Fe
---
There comes a time when your gatherings become gigs, and this custom Santa Fe trailer will be your ace in the hole when it comes to accommodating larger, mobile cooks. The setup features a 20" offset wood pit streetside and boasts the Yoder Smokers Heat Management Plate for the ultimate in fuel efficiency and an ideal, balanced smoke profile. Simply fire it up with the propane log lighter and it's go time. Next, at the rear of the trailer you have dual 60,000 BTU burners for taking care business on those essential simmering side dishes. Continue around curbside and you'll find the YS640S pellet cooker. A legend in its own right with the ability to grill steaks or burgers or dogs directly over flames, it quickly and effortlessly configures for indirect cooking should you need even more room to smoke. Rounding to the front of the trailer the Santa Fe comes equipped with convenience to spare, such as a slide-out prep table, 4-drawer storage box, and cooler storage with rails to secure cargo. Complete with blacked-out 15" custom wheels and Race Red paint, this rig is ready to help you make your mark.

Santa Fe – 2019 Ford F-150 Race Red
2nd Level Slide Out Shelf
Propane Log Lighter
Pot Warmer
Heat Management Plate
Stay Cool Handles
Grease Drain
Offset Firebox
Log Grate
Door Counterweight
Door Temperature Gauges
Slide Out Table Top
Dual 60,000 BTU Burners – On the Rear of Trailer
Standard Wood Box
Cooler Storage on the Tongue
Cooler Storage in Front of Wood Box
Three Sided Rails Around Cooler Storage in Front of Wood Box
15″ Custom Aluminum Wheels – Black
YS640 Pellet Cooker Added to Curbside
Storage Box with 4 Sliding Drawers (up to 50″ wide)
Stainless Steel Front Shelf
6 Grill Grates
Grill Grate Tool
Two Piece Diffuser
Probe Port
---
PROPOSITION 65 STATEMENT
WARNING:
Combustion byproducts near this grill include carbon monoxide, a chemical known to the State of California to cause birth defects or other reproductive harm.
---
VIEW ALL CUSTOM CATEGORIES