24×48 Flat Top
$2,599.00 + SHIPPING
---
The popularity of cooking over charcoal has steadily increased over the past 10 years, and to meet that demand, Yoder Smokers has introduced large format charcoal grills that cater to the folks cooking for a crowd as well as those in the backyard. This 24×48″ grill boasts 1,152 square inches of cooking surface and heavy-duty American made construction. Key features cooks will immediately appreciate include the variable height charcoal basket, ability to cook indirectly, and the custom stainless steel front shelf. And mounted on casters with 8″ pneumatic tires, this grill makes short work out of positioning on the patio or venue.
"This grill is so versatile. It's a charcoal grill but it does a heck of a job doubling as a smoker too."
— Joe M.
"Love the large factor — I can be grilling something on one side, while resting on the other; or nursing a strong fire on one side and moving the embers when ready to the other."
— Thiago A.
"My Yoder charcoal grill has adjustable grates that command the fire unlike anything I've ever seen."
— Nick M.
"King of the reverse sear and the best steaks I've ever cooked. It just doesn't get any better than this."
— Scott R.
Previous
Next

VIEW FEATURES & RESOURCES
FEATURES, OPTIONS & RESOURCES
Standard Features
American Made in Kansas, USA
Grill body constructed from 12 gauge, lid from 14 gauge, and charcoal basket constructed from 7 gauge steel
Charcoal Basket Has 5 Height Adjustments for Precise Heat Control
Full Length Ash & Grease Tray Slides Out for Easy Cleaning
Effortless Set Up for Indirect Grilling
Two Adjustable Combustion Air Vents Deliver Even Burn
Custom Stainless Steel Front Shelf
Heavy-duty Casters with 8-inch Flat-Free Tires
Integrated Probe Port

Cooking Surface
1,152 Sq. Inches
Two 22.6″x23.8″ Cooking Grates
Cooking Chamber Thickness
12 Gauge Steel
Overall Depth
37.7″ (Including Front Shelf)
---
PROPOSITION 65 STATEMENT
WARNING:
Combustion byproducts near this grill include carbon monoxide, a chemical known to the State of California to cause birth defects or other reproductive harm.
---
ALL CHARCOAL GRILLS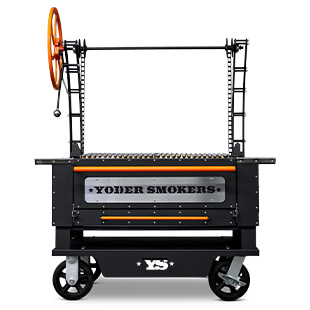 36" El Dorado
42" El Dorado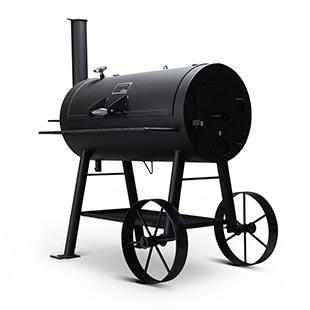 ABILENE 20