Frontiersman 30
Series
Starting At $6,495 – $13,100
+ shipping
---
Ready to leave cooking for family, friends and mid-sized gatherings behind? The Frontiersman offset smoker is intended to help you forge a new path; maybe you have dreamed of turning your hobby into a career such as competitive cooking, event catering, mobile concessions or even a restaurant. This 30″ pit, built to your specifications, will help you conquer that dream. The Frontiersman is available in either a single, double or triple door model; call or e-mail us to custom configure the Frontiersman to your specifications.

VIEW SPECS, FEATURES, OPTIONS & RESOURCES
FEATURES, OPTIONS & RESOURCES
INCLUDED
Propane Log Lighter
Pot Warmer
Stay Cool Handles
Grease Drain
Offset Firebox
Log Grate
Door Counter Weight
Temperature Gauges
15″ Tires and Wheels
Slide Out Table Top
New Style Swinging Door Probe Port
OPTIONAL
15″ Custom Aluminum Wheels with Tires (per pair)
16″ Custom Aluminum Wheels with Tires (per pair)
YS640 Pellet Cooker Added to the Curbside
24×48 Flat-top Charcoal Grill Added to the Curb Side
2nd Level Slide-Out Shelf
Heat Management Plate
Square Fire Box with Boiler Style Door
Square Insulated Fire Box with Boiler Style Door
10 Gauge Stainless Steel Front Shelf
32×50 Vertical Chamber with 8 Cooking Racks
Front Cargo Area with Tie-Down Rails
Single 60,000 BTU Burner
Double 60,000 BTU Burner
Custom Paint Color (+Call for Pricing)
Storage Box with 4 Sliding Drawers (up to 50″ wide)
Rear Storage Box with Lid
Tongue Storage Box with Positive Sealing Surface
Electric Brakes
Charcoal Basket for Firebox
Tandem Axle
Cooking Surface
*1,740, †2,080, Or ‡2,611 Sq. Inches
– *Two 29.5″x29.5″ Racks
– Or †Three 23.5″x29.5″ Racks
– Or ‡Four 26.25″x29.5″ Racks

Optional 2nd level Grates Add:
*1,168.75, †1,253.5 Or ‡1,973 Sq. Inches

Overall Width
70″
(Including Trailer)
Overall Depth
*159″, †173″, Or ‡204″
(Including Trailer)
Weight
†1,500 Or ‡4,650 lbs
*Frontiersman I Single Door Configuration
†Frontiersman II Double Door Configuration, ‡Frontiersman III Triple Door Configuration
*All Frontiersman III or any trailer with multiple cookers may require a tandem axle upcharge.
---
PROPOSITION 65 STATEMENT
WARNING:
Combustion byproducts near this grill include carbon monoxide, a chemical known to the State of California to cause birth defects or other reproductive harm.
---
VIEW ALL TRAILER SMOKERS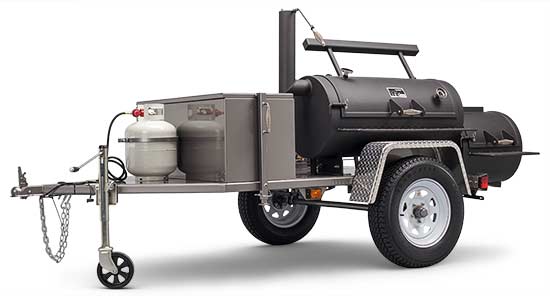 Santa Fe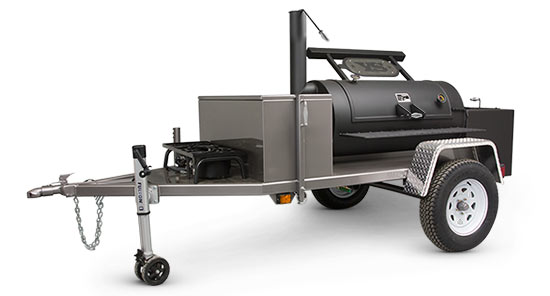 Chisholm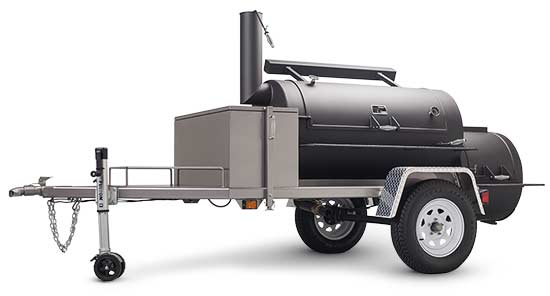 Frontiersman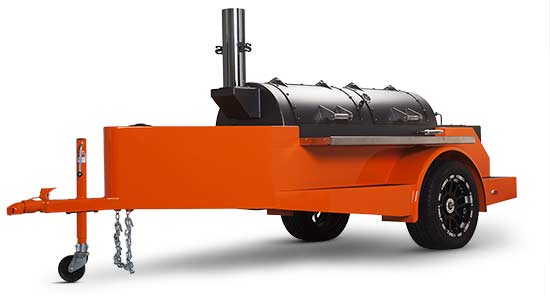 Cimarron