Pork Belly Pastrami
few days in pastrami brine does amazing things to that fatty succulent slab of pork!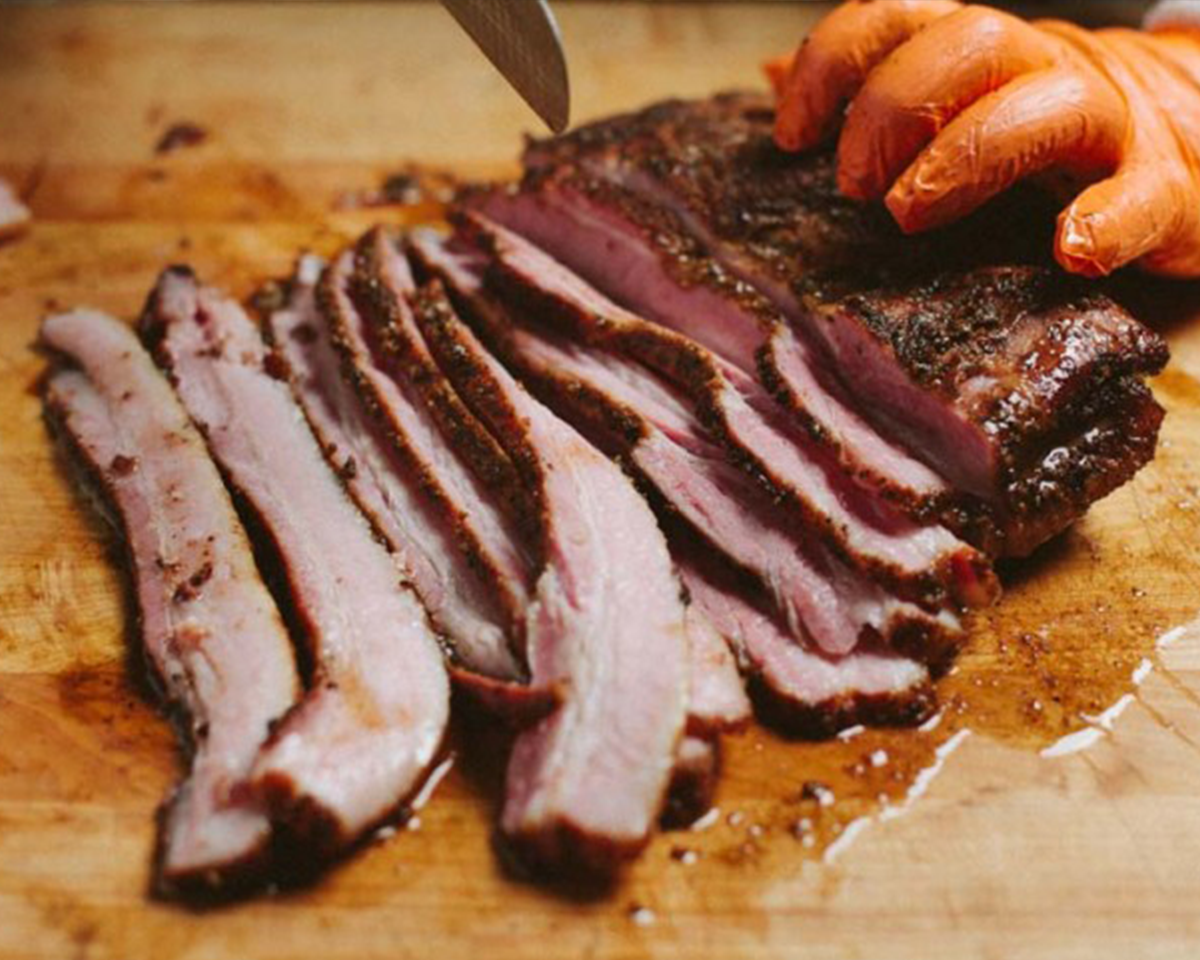 If you thought smoked pork belly couldn't get any better, I've got news for you. A few days in pastrami brine does amazing things to that fatty succulent slab of pork! In 3-4 days time, the belly will take on all of those wonderful aromatics, as well as the added moisture from the brining process.
Pork Belly Pastrami
Ingredients
For the brine:
1 gallon water
¾ C kosher salt
½ C sugar
2 t pink salt (sodium nitrite)
5 cloves garlic, crushed
2 T pickling spice (recipe below)
Note: Depending on the size of your belly, and the container in which you are brining, you may need to multiply this recipe. You will need enough brine to cover the belly in the brining container.
For the pickling spice:
1 T coriander seeds
1 T black peppercorns
1 T mustard seeds
1 T red chile flakes
1 T allspice berries
1 T whole cloves
1 t ground ginger
1 t ground mace
1 small cinnamon stick, crushed
2 bay leaves, broken in to pieces
For the rub:
1/4 cup coriander seeds, toasted
2 tbsp black peppercorns, toasted
2 tbsp R Butts R Smokin' R Beef BBQ Rub
To prepare the pickling spice, toast the coriander, peppercorns and mustard seeds in a dry hot skillet, just until fragrant. Be careful not to burn them. Crack the spices by crushing them with a heavy pan. Combine the toasted spices with the remaining spices. Store in a sealed container.
To prepare the brine, combine all brine ingredients in a large pot. Bring to a boil and stir until salt and sugar are dissolved. Cool to room temperature, then refrigerate until chilled.
Place belly in the brining liquid. Weigh it down with plates to make sure it is fully submerged. Refrigerate for 4 days.
Remove belly from brine and rinse thoroughly under cold water. Pat dry with paper towels. Combine the rub ingredients in a spice grinder or mortar and pestle and grind coarsely. Coat the belly with the rub. Preheat your Yoder Smokers YS640 pellet grill to 250ºF.
Smoke at 250ºF until internal temperature reaches 160ºF, about 3 hours. Double wrap the belly in foil, and continue cooking until the meat is tender when probed with a digital thermometer (190ºF-195ºF), but not falling apart. Allow meat to rest half an hour. Slice and serve.
Recipe developed by Chef Tom Jackson, photos by Justin Cary of All Things Barbecue