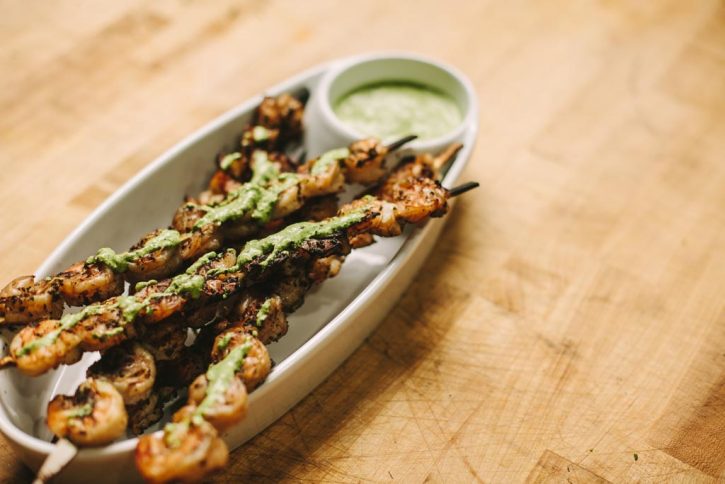 Lime Jalapeño Shrimp Skewers with Roasted Jalapeño Dipping Sauce
If you love shrimp and you want to do it right, this quick shrimp skewer recipe will not disappoint!
Ingredients
2 lb shrimp, peeled, deveined
Sweetwater Spice Lime Jalapeño Fajita Bath
4 jalapeños
1 cup cilantro, minced
1/2 cup sour cream
1/4 cup mayonnaise
1 tbsp lime juice
1 clove garlic, minced
kosher salt, to taste
Instructions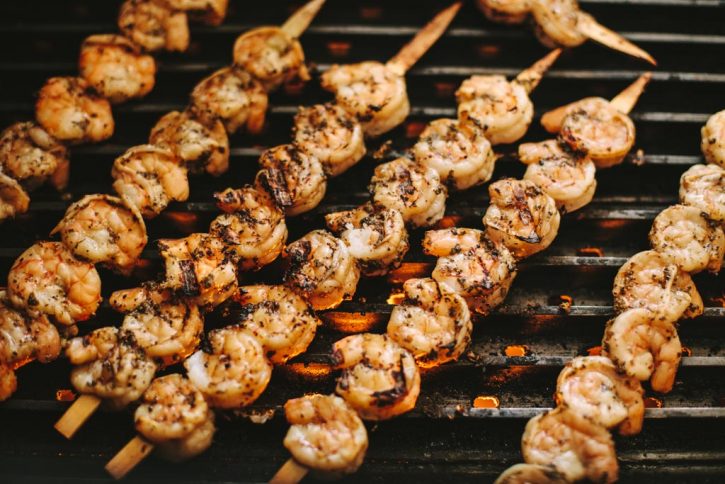 Place the shrimp on bamboo skewers and lay them in a shallow pan. Cover with equal parts Sweetwater Spice Lime Jalapeño Fajita Bath and water. Marinate for 30-45 minutes.
Preheat your Yoder Smokers YS640 pellet grill to 450ºF, set up for direct grilling with GrillGrates.
To make the dipping sauce, place the jalapeños on the grill and cook until the skin is blackened on all sides. Place in a zip top bag and let steam 10-15 minutes. Remove from the bag, peel the skins from the flesh and scrape out the seeds and stem. Mince the flesh of the pepper and discard the rest. Then, combine the peppers with the cilantro, sour cream, mayonnaise, lime juice and garlic in a small container. Using an immersion blender (or small food processor or blender), process until the mixture is smooth. Store in the refrigerator.
Remove the skewers from the marinade. Strain the solids from the liquid marinade. Rub the solids all over the shrimp.
Grill the shrimp on both sides to achieve nice grill marks. Remove from the grill when the shrimp are opaque and an instant read thermometer inserted into the thickest part of the shrimp reads 130ºF. Serve immediately with the dipping sauce.
---
Recipe developed by Chef Tom Jackson, photos by Justin Cary of All Things Barbecue