Tacos Al Pastor
Mike Malinao modified an original recipe by Chef Tom at All Things Barbecue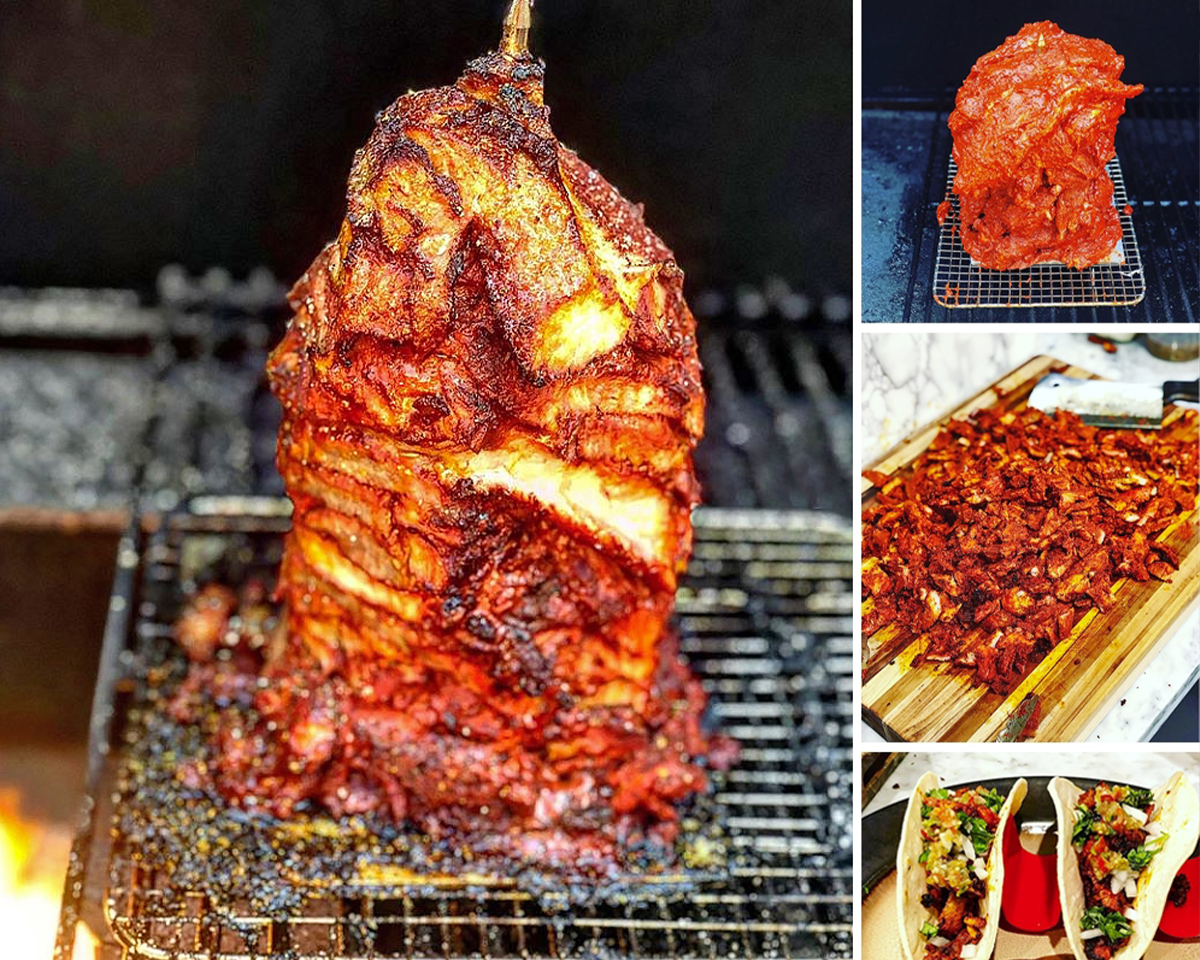 Tacos Al Pastor
Ingredients
4 lbs Boston butt pork shoulder, sliced thin
Cattleman's Grill Carne Asada 8 Second Ride
Al Pastor marinade (recipe below)
1 red onion, minced
1 bunch cilantro, chopped
1/2 cup cotija cheese, crumbled
20 small tortillas
For the Marinade
14 oz Achiote paste
Adobo Sauce (recipe below)
1/2 cup orange juice
1/2 cup apple cider vinegar
1/2 cup olive oil
For the Adobo Sauce:
2 oz dried chipotle chiles
2 oz dried guajillo chiles
1 cup white onion, diced
6 fl oz pineapple juice
4 fl oz orange juice
2 tbsp apple cider vinegar
1 oz piloncillo (or brown sugar)
2 cloves garlic, smashed
1 tbsp ground toasted cumin
1 tbsp dried Mexican oregano
1 tbsp dried thyme
1 tsp ground allspice
1 tsp kosher salt
Instructions
To make the adobo sauce, toast the dried chiles in a cast iron skillet on both sides until fragrant and just browned. Remove from the skillet. Remove the stems and seeds. Place the chiles back in the skillet. Cover with water. Bring the water to a simmer. Cover and simmer for five minutes (or until tender). Drain the water and discard. Transfer the chiles to a blender or food processor. Add the remaining ingredients and process until smooth. Taste and adjust the salt level as desired.
To prepare the marinade, combine the marinade ingredients in a bowl and mix well.
Next, combine the marinade and pork in a zip-top bag or plastic container. Rub the marinade into the meat, making sure that there is marinade on all surfaces. Marinate in the refrigerator overnight.
Remove all but two of the lower grates and preheat your YS640s to 350ºF. You will be using indirect and direct grilling.
Remove the meat from the marinade, wiping off excess marinade. Using a standing skewer, thread the meat at varying intervals and once it is all threaded, place the skewer in the center of the lower rack, cooking for one hour at 350º. After cooking for one hour, open the access door in the two-piece diffuser for direct grilling. Crank the YS640s up to 375º, push the heat plate all the way in and position the grates and skewer so that one side other meat is exposed to the flames. Close the lid and cook for 15 minutes to get the sides closest to the flame charred a bit.
Slide the grates and skewer away from the fire and use an electric carving knife to slice off part of the outside layer of meat using a small baking sheet to catch the meat. Rotate the meat and slide the grates and skewer back to cook and keep repeating the process until all the meat is cooked. Hold the pork in a warm place. Reheating the meat right before serving (or the following day) in a cast iron skillet will give it that extra bit of crispiness.
Serve the pork wrapped in warm tortillas, with red onions, cilantro and cotija cheese.
Prep Time: 45 Minutes | Cook Time: 2 Hours 30 Minutes | Total Time: 3 Hours 15 Minutes
Mike Malinao modified an original recipe by Chef Tom at All Things Barbecue, a Yoder Smokers dealer, so it could becooked on a YS640s pellet grill and conform to his family's own personal tastes – which means a reduction in the use ofcooked pineapple.