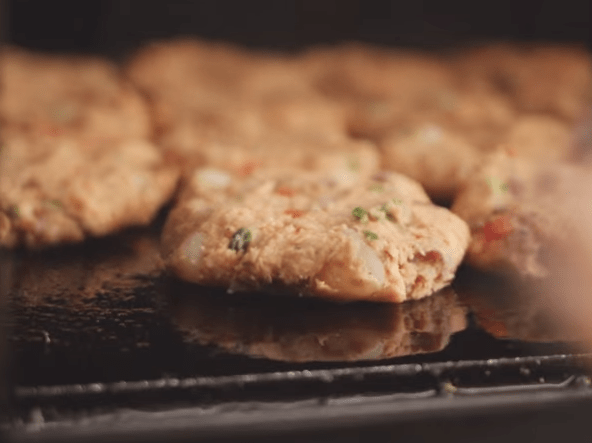 If you're a fan of seafood, you've probably had crab cakes. This recipe switches that up with a delicious smoked salmon cake. I't's perfect as an appetizer or main course.
Chef Tom breaks down how to season and smoke the salmon before putting together the final salmon cakes and serve with a nice aioli.
Ingredients*
1.5 lb fillet of salmon
Plowboys BBQ Fin and Feather
1 lb red potatoes
1 red bell pepper, minced
3 green onions, green parts only, minced
1/4 cup breadcrumbs
1.5 limes
2 cloves garlic. minced
2 eggs
2 cups mayonnaise
1/2 (7 oz) can chipotles in adobo
Instructions
Preheat your Yoder Smokers YS640 Pellet Grill to 275ºF, diffuser in, griddle over firebox and an A-Maze-N Tube Smoker on the main grate. Place your favorite pellets in the tube smoker and light.
Rub the fillet of salmon with a little olive oil, then season with Plowboys BBQ Fin and Feather. Smoke until the internal temperature reaches 145ºF, about 30-40 minutes. Remove from the smoker and turn the temperature up to 425ºF.
Cook your potatoes until they're all the way tender. Cool and give a rough chop.
Remove the flesh of the fish from the skin. Discard the skin. Break up the fish in a mixing bowl. Add the potatoes, minced red bell peppers, green onions, garlic, breadcrumbs and the zest and juice of one lime. Mash everything together, and mix well. Taste and season with salt and Plowboys BBQ Fin and Feather. When you like the seasoning, add the eggs and mix well. Form into 2.5-3 oz patties.
Cook the salmon cakes on the griddle on both sides until well browned.
To make the aioli, mince the chipotles in adobo sauce. Combine with the mayo. Add the juice of half of a lime. Mix well.
Serve the smoked salmon cakes with the chipotle aioli and enjoy!
---
Recipe developed by Chef Tom Jackson, photos by Justin Cary of All Things Barbecue