Mocha Poke Cake
Turn a simple box cake baked on the Yoder Smokers YS640 into a delicious chocolate dessert.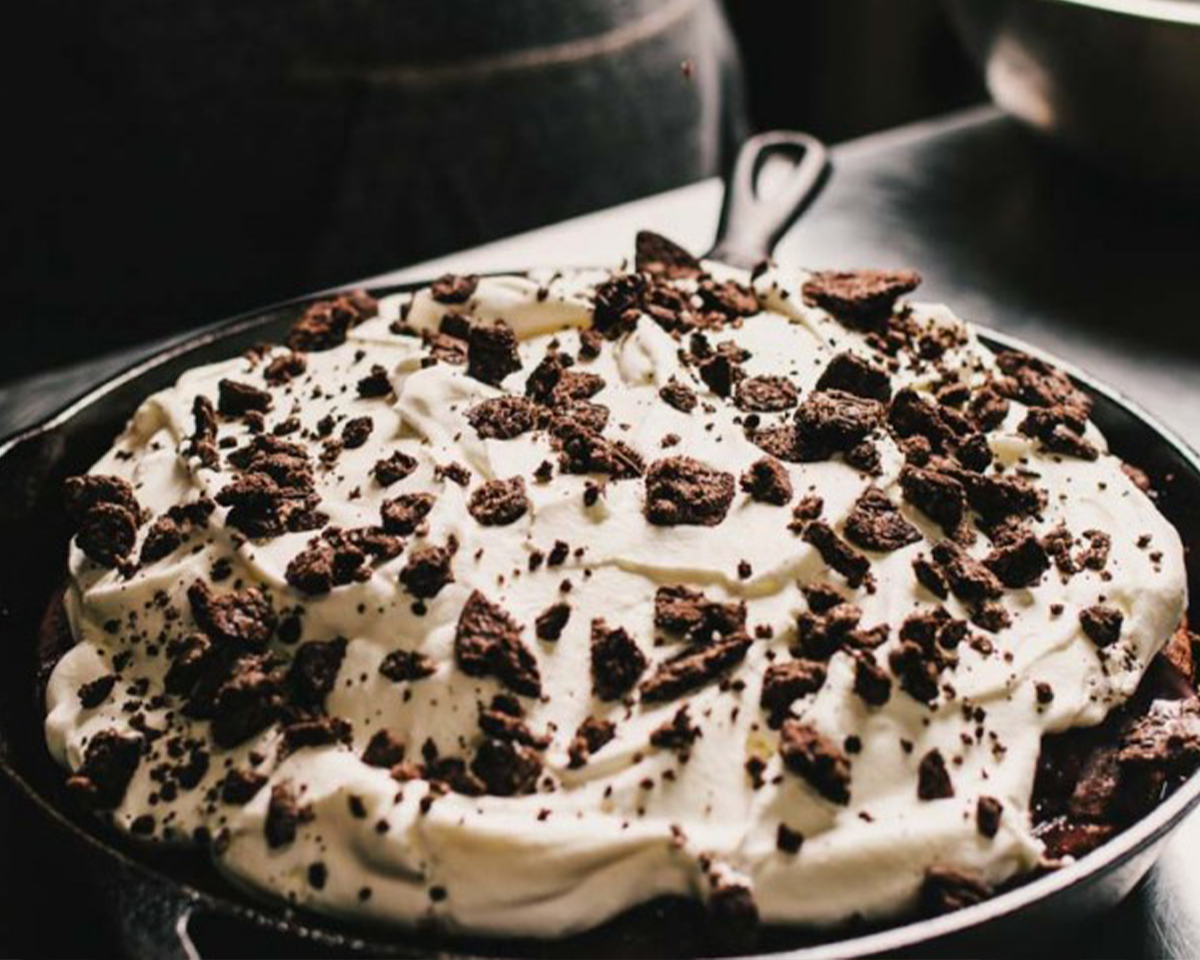 Take your cake game to the next level with this delicious poke cake recipe! Turn a simple box cake baked on the Yoder Smokers YS640 into a delicious chocolate dessert. Topped off with some home made whipped cream and crumbled Oreos it's a perfect treat after any barbecue meal.
Mocha Poke Cake Recipe
Ingredients
1 chocolate cake mix
3 eggs
1/2 cup unsalted butter, melted
3 servings instant coffee powder
1 cup chocolate creamer
1 (14 oz) can sweetened condensed milk
2 cups crushed Oreos, divided
For the ganache:
12 oz semi sweet chocolate chips
1/2 cup chocolate coffee creamer
1 tbsp unsalted butter
For the whipped cream:
1 pint heavy cream
6 tbsp sugar
1 tsp bourbon (or vanilla extract)
Instructions
Preheat your Yoder Smokers YS640 pellet grill to 350ºF, set up for indirect grilling.
In a mixing bowl, combine the cake mix, eggs and 1/2 cup melted butter. Mix until smooth. Pour into a greased Lodge Logic 12" cast iron skillet and spread evenly. Bake on the second shelf until a toothpick inserted in the center comes out clean, about 40 minutes. Remove from the cooker and let cool completely.
Using the handle of a wooden spoon, poke 15-20 holes in the cake. In a bowl, whisk together the sweetened condensed milk and 1 cup of the chocolate coffee creamer. Pour over the cake, filling the holes.
Combine the ganache ingredients in a microwave safe bowl. Heat until chips are melted. Whisk until smooth. Mix in 1 cup crushed Oreos. Evenly pour the ganache mixture over the cake.
Combine the whipped cream ingredients in a stand mixer. Whisk on medium high until stiff peaks are formed. Spread the whipped cream over the ganache. Top the whipped cream with the remaining 1 cup of crushed Oreos.
Refrigerate at least two hours (to overnight) before serving, to allow the liquid to soak into the cake.
Recipe developed by Chef Tom Jackson, photos by Justin Cary of All Things Barbecue