Planked Halibut w/ Peach Glaze and Pineapple, Cucumber Salsa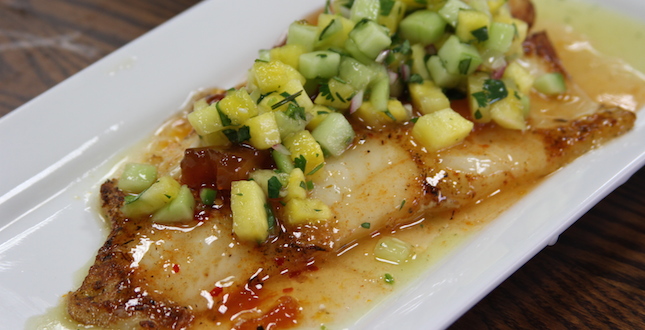 If you want to try an interesting twist on a traditional smoked fish, you'll love the flavor burst of this halibut with peach glaze. The flavor doesn't stop there! Add the pineapple and cucumber salsa for extra kick. This is one dish you'll want to make and share with special guests – it's just that good.
Ingredients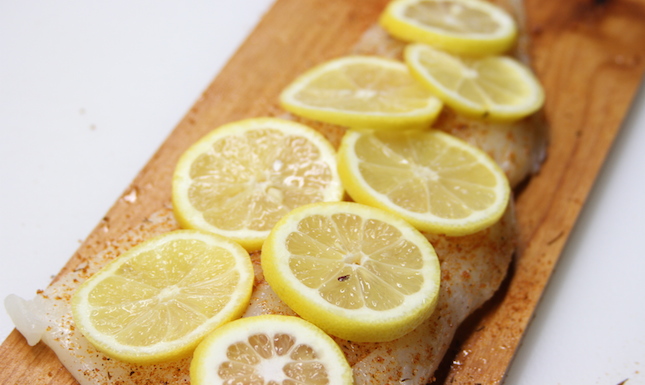 1 GrillPro Grilling Plank, soaked in water for 1 hour
1 3/4 lb. Halibut (or other whitefish) fillet
1 lemon, sliced
Plowboys Fin & Feather Rub
Drop Dead Delicious Peach Apricot Glaze
Pineapple Cucumber Salsa
1 cup cucumber, peeled and cut into a small dice
1 cup pineapple, diced
¼ cup cilantro, chopped
1 tablespoon red onion, minced
½ lime, juiced
1 tablespoon Pain Is Good Jalapeño Pepper Sauce
Pinch of salt
Instructions
Planked Halibut With Pineapple-Cucumber Salsa
Preheat Yoder Smokers YS640 to to 325ºF and set up for both direct and indirect grilling. Prepare the Pineapple-Cucumber Salsa.
Rub bottom side of fillet with oil, to prevent sticking, and place on soaked grilling plank. Apply a moderate layer of Plowboys Fin & Feather Rub to the topside of the fillet. Slice Lemon, and lay slices across the fillet.
Place the plank over the direct heat. Cook until plank is dried out and smoking. Move the plank to the indirect heat side of the pit. When the thickest part of the fish reaches 140ºF, remove the lemon slices and brush the fish with generous layer of the Drop Dead Delicious Peach Apricot Glaze. Continue cooking until fish reaches an internal temperature of 145º (check the temperature using an instant read thermometer like the Maverick PT-100). Serve fish topped with the Pineapple-Cucumber Salsa.
Pineapple-Cucumber Salsa
Combine all ingredients in a bowl. Toss to incorporate. Cover and refrigerate until ready to serve. The salsa should sit at least an hour, for best flavor.
Recipe developed by Chef Tom Jackson, photos by Justin Cary of All Things Barbecue
36 Views