BBQ combined with charity is Quetopia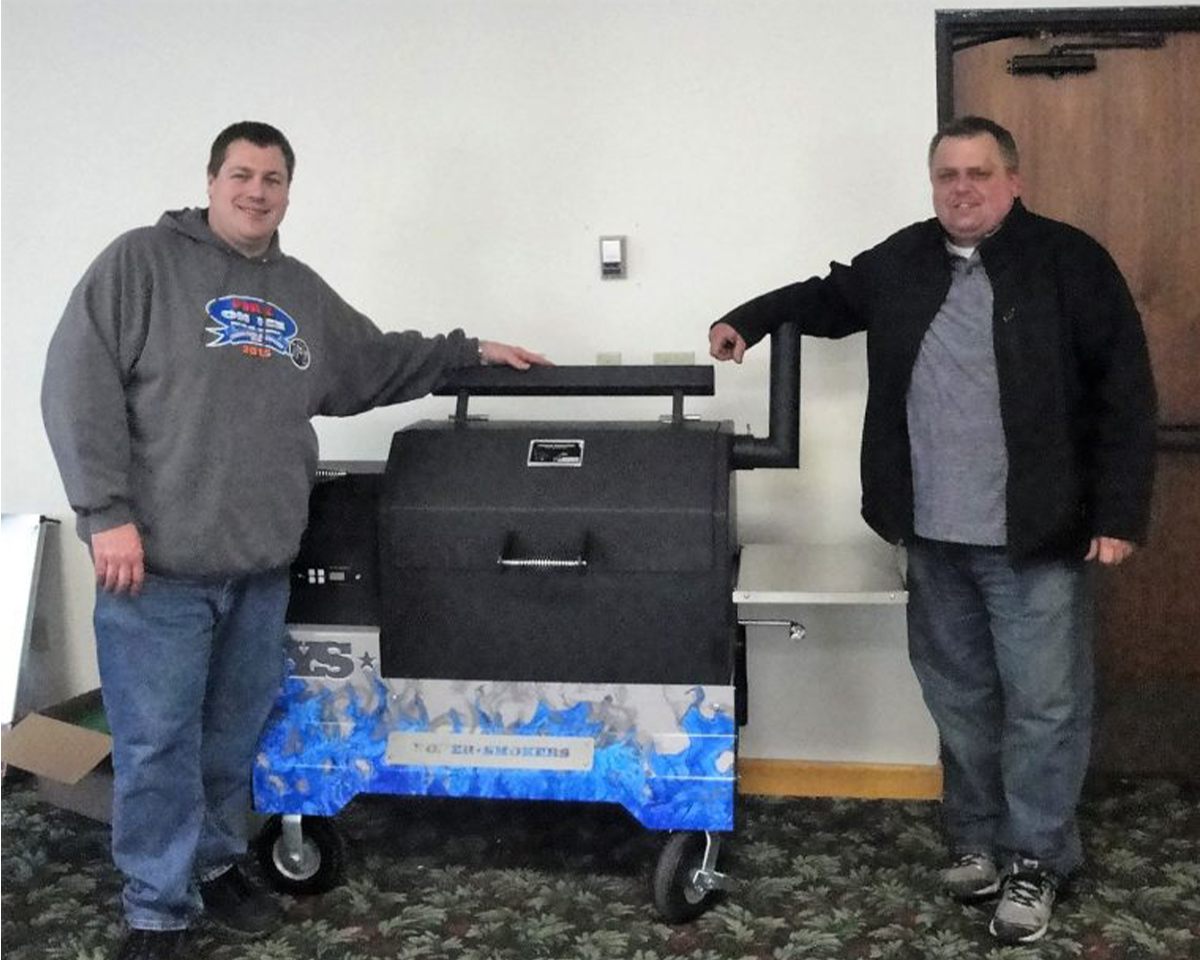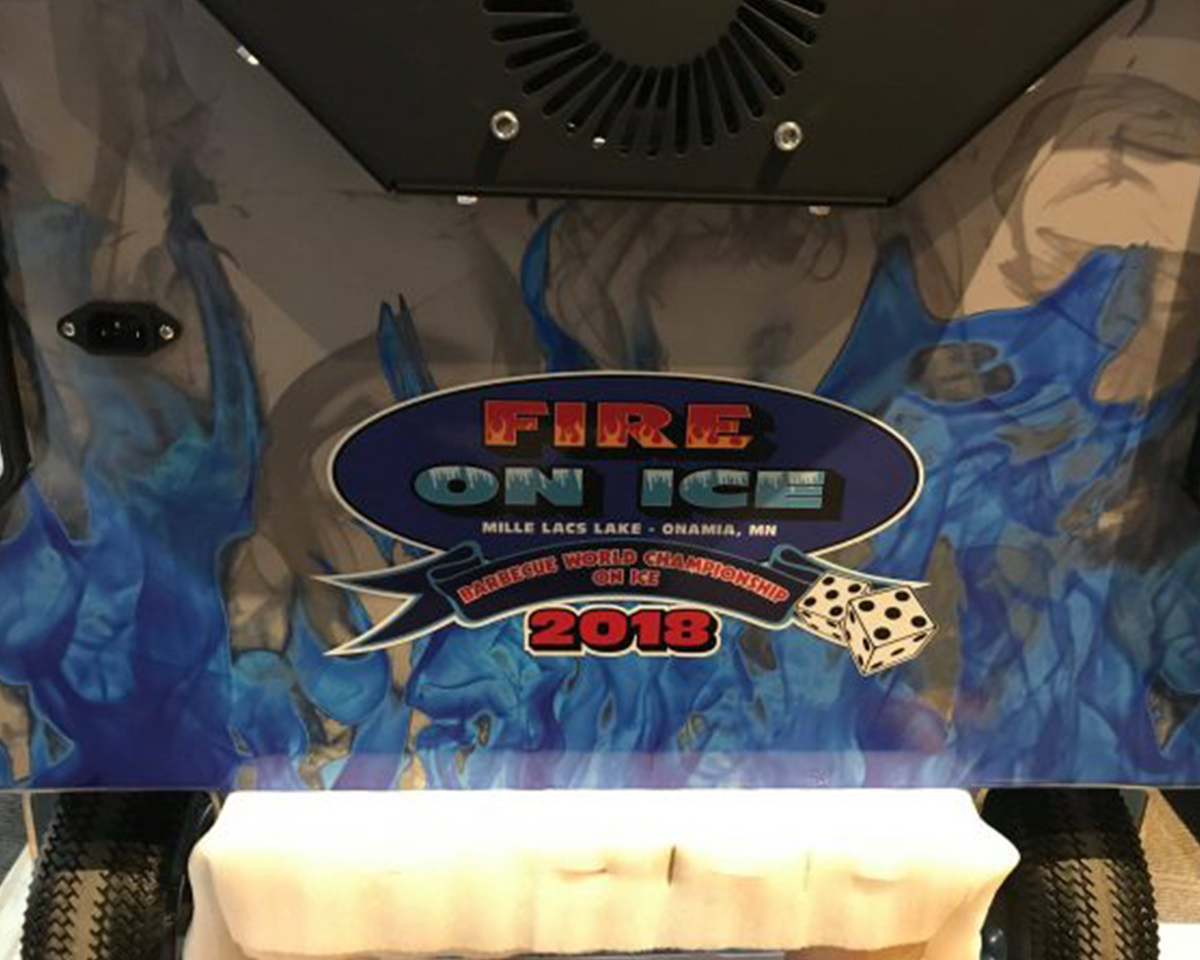 Springtime in Minnesota is slow to arrive and barbecue lovers look forward to heating up by getting out their grills. Fire on Ice started as an idea by Jeff "Dictator Turcatto" Turcotte in 2007 for everyone to get out there and cook great BBQ, on the ice. The Fire on Ice BBQ event is aptly named for its unique location, on the frozen crust of Milles Lac Lake in Onamia, MN. It was a loosely based contest of "short cook" meats that would later be turned in at a local bar where patrons would act as judges.
For four years the annual event turned into a highly anticipated contest that brought teams in from as far away as Texas. And then, it became a little more work than the organizers could handle. The contests ended with the 2011 season.
People who barbecue are fun-loving, family oriented and love to entertain. Tony and Amy Korthaus are just such a couple and after years of backyard barbecuing, they formed the Quetopia competition team. As a member of the Minnesota BBQ society, Tony was familiar with the Fire on Ice contest. When he and Amy opened their Quetopia BBQ supply store, people started suggesting that Tony bring the popular contest back to life.
With a bit of peer pressure Tony resurrected the Fire on Ice competition in 2013. Each year the contest has grown in size and became a sanctioned contest by the Kansas City Barbeque Society (KCBS) in 2016. This year, the 10 year old event had 57 teams from Iowa, Minnesota, North and South Dakota and Missouri competing to win cash prizes. In fact, the competition paid out a record of over $16,000 in cash, which will make Fire on Ice the largest single day contest payout in the state of MN in 2018!
The competition is just as much fun as it is work with first-rate sportsmanship and camaraderie. It's also a great way for barbecue related businesses to get exposure through contributing items for additional prizes.
Because Tony has been a Yoder Smoker dealer since 2015, he contacted Joe Phillips of Yoder Smokers about contributing a smoker as a prize at Fire on Ice. Joe was excited about the idea and readily agreed to supply Yoder's most popular pellet grill, a YS640 on a competition cart.
Joe made this one extra special with a decorative wrap of gray and blue flames representing the competition. With an added Fire on Ice logo, the pellet grill was shipped to Tony at Quetopia.
But then Tony had a better idea.
With the tenth year of Fire on Ice, Tony decided to add a charity partner that would benefit from donations at the event. The non-profit organization chosen was Faith's Lodge.
Faith's Lodge is an organization that supports parents and families coping with the death or medically complex condition of a child. It's a particularly difficult experience for any family and Faith's Lodge provides an oasis in the middle of the grief and heartache where parents and families can commune with others that have similar experiences. The Lodge is a retreat center located in a beautiful cabin-like setting in the north woods near Danbury, WI. The time spent at the lodge can help families gain renewed strength and hope for the future, as Tony and Amy experienced first hand after the loss of their infant son in 2008.
While there is a cost to stay at the Lodge, no one is ever turned away for financial reasons. That's why even the smallest donation can make a difference to the Lodge and families in need, from supporting their stay at the Lodge or putting snack items in the pantry for guests to enjoy.
With the addition of the charity partner, Tony decided to use the YS640 as the signature raffle item with all proceeds going to benefit Faith's Lodge.
How did it go?
"The raffle went EXTREMELY well! Everyone loved the Yoder!!" said Tony, "We sold over $8,000 of raffle tickets for just the YS640! I could not believe the support and generosity from the bbq teams at Fire on Ice."
When it was all said and done, there were an additional 40 items in the raffle. They earned almost $11,000 in raffle ticket sales. Other individuals who learned the story and wanted to donate added to the final total. When the day came to visit Faith's Lodge with the donation, Tony and the BBQ fans had raised $13,000.
"The comments from those there (at Fire on Ice) and the connection we had with them from our story, some of which had similar experiences, made all the work and effort worthwhile…it was priceless!" said Tony, "That's what I love about the BBQ community….while we are all competitors, we are all really good friends and support each other."
In addition to the financial contribution, Tony will be taking his pellet grill to Faith's Lodge for the first ever Bereaved Fathers weekend at the end of May. He'll be providing some incredible food and hands on experience to these fathers who have faced a very difficult time. It's just another way that barbecue is going to help build community and long lasting friendships.
---
---