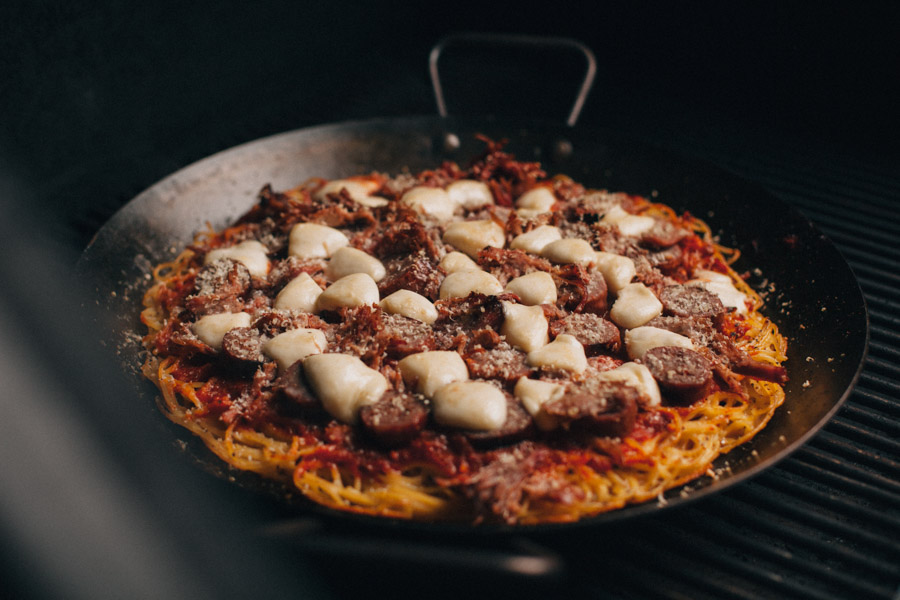 Most people would love to have pizza if it weren't for the crust. And most people love spaghetti. What if you combined the two and used your Yoder Smoker to cook it up? Spaghetti Pizza (Spaghizza) is epic! Most of us have spaghetti in the pantry. You might even have some leftover in the fridge. With the addition of a couple of ingredients, you can turn that spaghetti into pizza crust. Check it out!
This rendition features hot Italian sausages as well as some leftover pulled pork. Of course, you can choose your favorite toppings. The Lodge 15″ Seasoned Steel Skillet is a perfect vessel for this dish. It distributes heat evenly, giving the crust a nicely browned finished, and it's big enough to feed the whole family.
Ingredients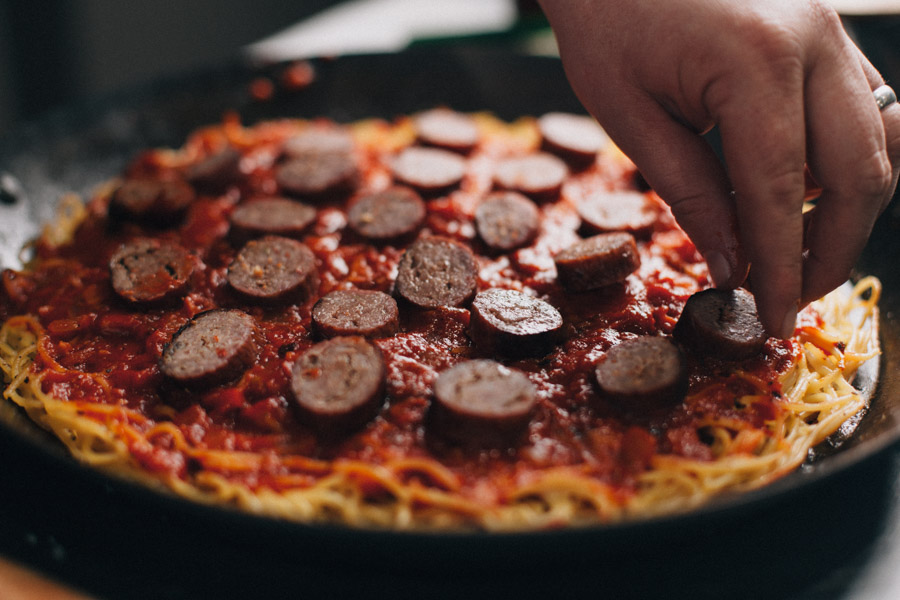 1/2 lb spaghetti
2 eggs
1/2 cup finely grated parmesan, divided
2-3 tbsp Cattleman's Grill Italiano Seasoning
2 cups of your favorite pasta sauce
8 oz fresh mozzarella, diced
3 Italian sausage links, cooked, sliced
1 cup pulled pork
Instructions
Preheat your Yoder Smokers YS640 Pellet Grill to 400ºF. Cook the pasta in boiling water until tender. Drain the water. Let cool slightly. While still warm, add the eggs, 1/4 cup of parmesan and 2-3 tablespoons Cattleman's Grill Italiano Seasoning to the pasta and mix well. Transfer the pasta mixture to a Lodge 15" Seasoned Steel Skillet. Bake the spaghetti "crust" for about 10 minutes. Remove from the cooker.
Top the spaghetti crust with the pasta sauce, sliced sausage links, pulled pork, diced mozzarella and the remaining 1/4 cup of parmesan. Return the skillet to the smoker and continue cooking until the cheese is melted and the bottom is lightly browned, about 40 minutes.
---
Recipe developed by Chef Tom Jackson, photos by Justin Cary of All Things Barbecue