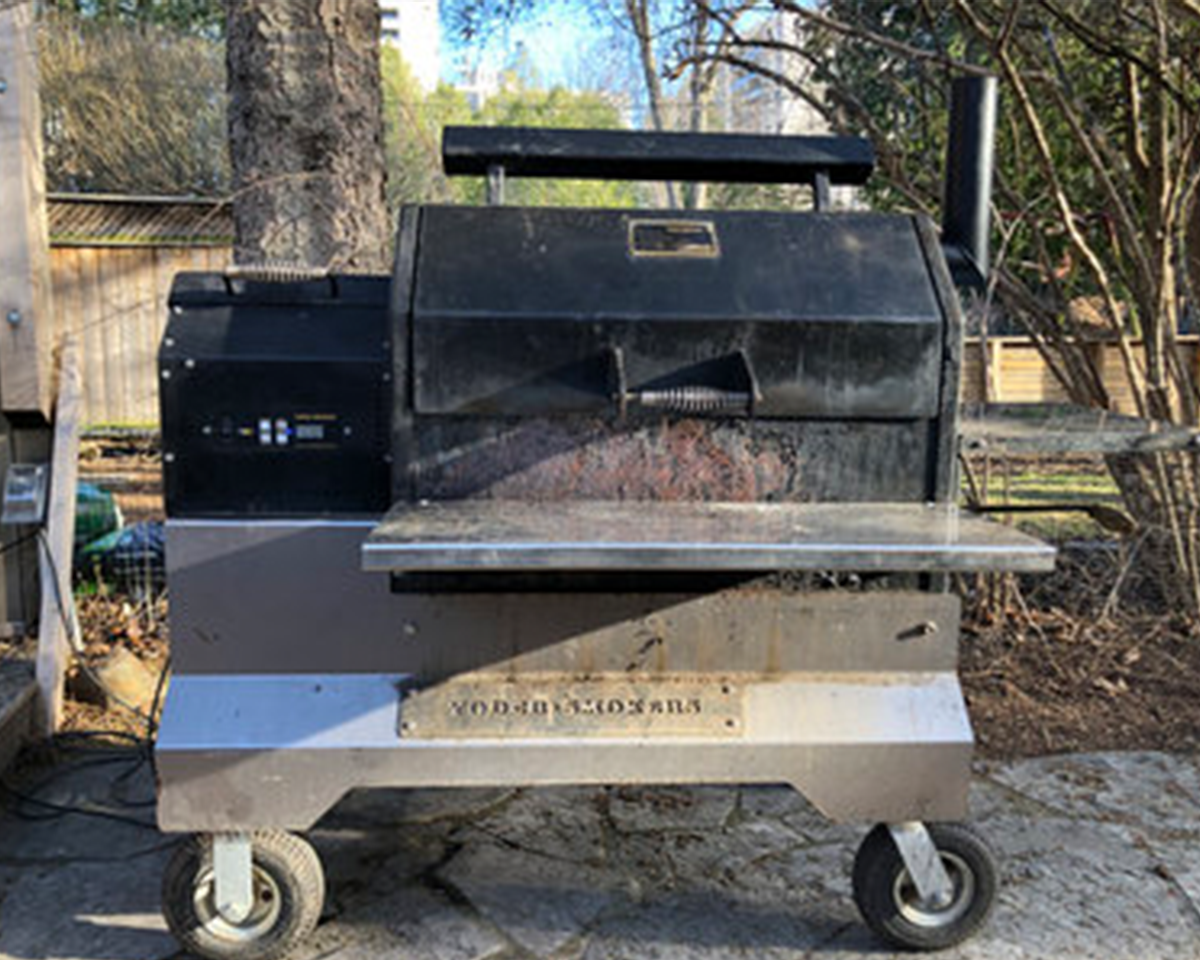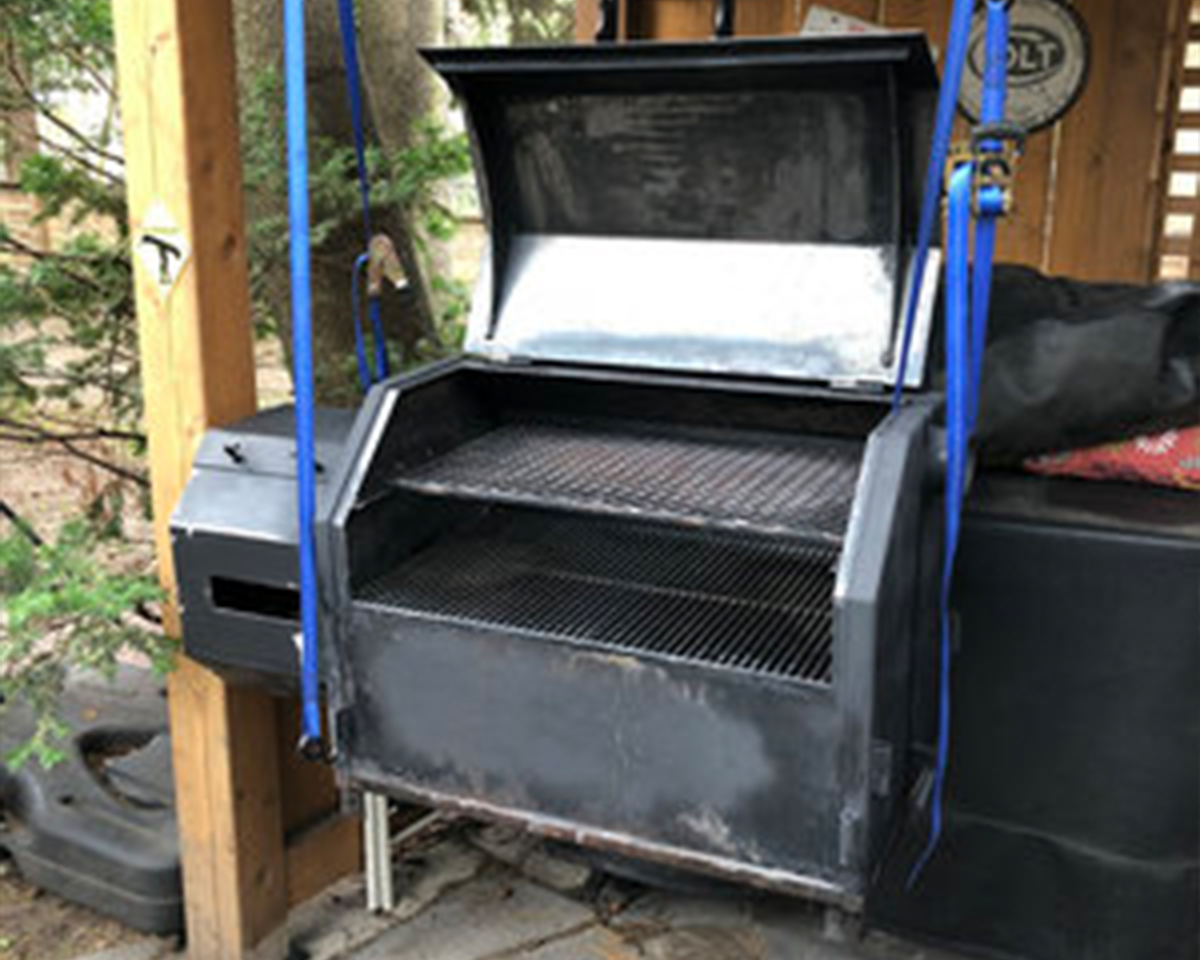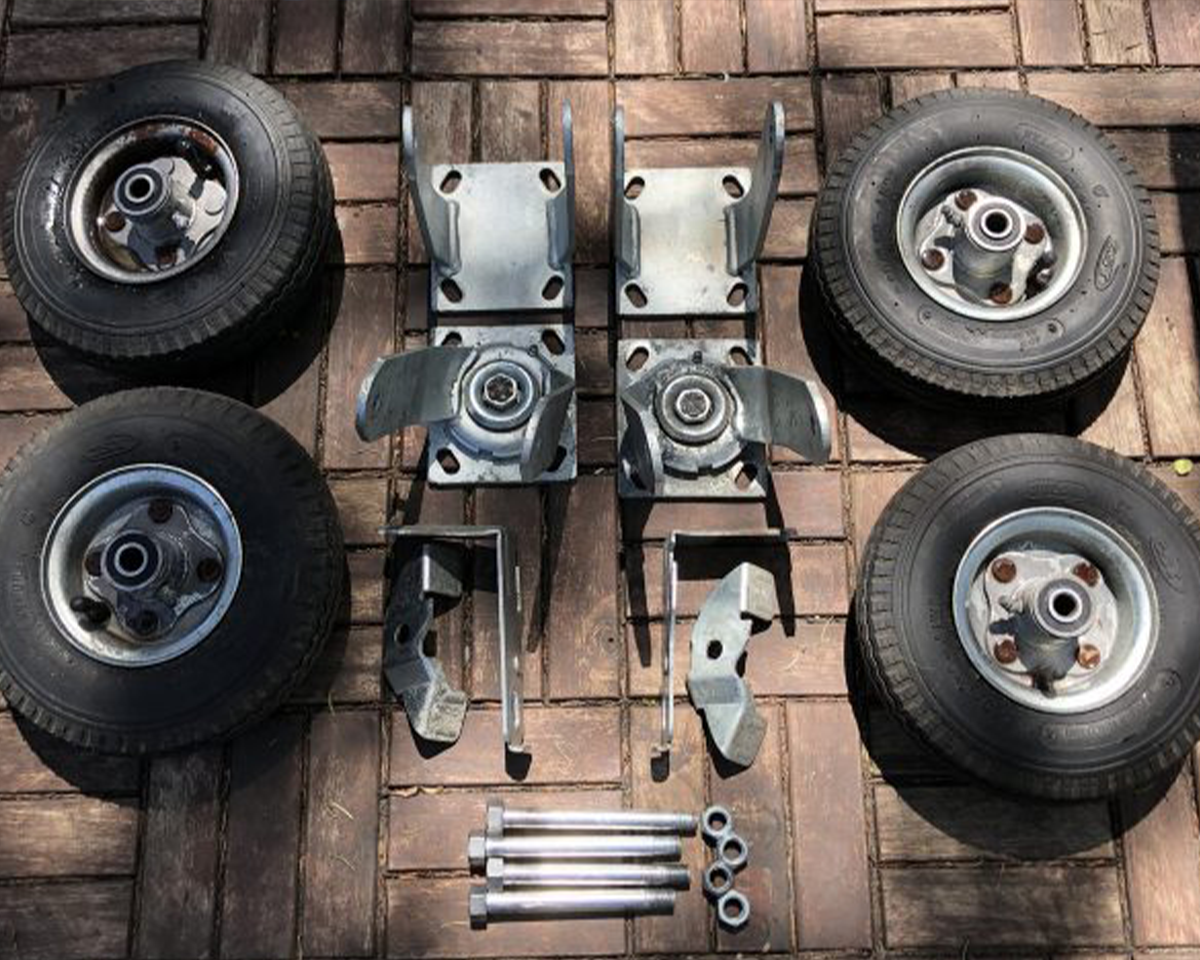 Dan Elder had been looking at Yoder Smokers for a long time.
He first saw one in use at the 2015 American Royal when he was competing with Team Pelletheads. Dan was cooking chicken on a FEC100 and a pulled pork was being done on a YS640 on a comp cart. "I really liked the build quality. The cart was great as it was so simple to move around and very heavy duty," said Dan. He was also impressed with the near effortless cooking and the way the meat turned out. You see Dan doesn't just compete, he's also a judge.
And on that day, Dan was sold on Yoder Smokers.
Over the years, Dan had used many different brands of smokers. He's a big fan and says "you can never have too many smokers." But this year he decided to replace his gas grill.
As luck would have it, Dan saw a local forum post about a 2012 YS640 on a competition cart for sale. The listing included one blurry shot of the YS640 dressed in its silver thermal jacket. The photo was bad but the price was right, "and I knew it was a Yoder so it was built like a tank!" said Dan.
The Restoration
Dan bought the grill and got it home a few days later. He removed the thermal jacket to find a grill that looked like it needed a lot of TLC.
"I was not expecting that on the outside but what I really was not expecting was what I found on the inside!" Dan explained.
Clearly in need of more than a spring cleaning, 6 years of smoking and grilling debris clogged every space inside the grill. The grill grates and heat diffuser had a good ½" of caked on crud. After removing the insides Dan found about 2" of sludge that required a hammer and chisel to remove. It was so jammed that the damper would not slide!
Not to be deterred, Dan set to work to restore his pellet grill. "I knew I was removing all the "seasoning" but this pit needed it removed and will easily be re-seasoned with a few pork butt cooks."
For the grill grates, Dan used a trick he found on the internet. He placed them in a large black garbage bag, with vinegar and ammonia,. The bag was sealed and left to it sit in the sun for 24-36 hours. To his surprise the trick worked! The bulk of the grease and burnt on junk was gone.
Now that the inside was taken care of it was time to focus on the outside. Dan took the time to remove every nut and bolt (and rivet) and separate the body from the cart. He had to improvise a lift to hold the pellet grill up off the cart. All removable parts were stripped off of the body.
"The great thing about Yoder is that all those parts are stainless steel or chrome plated," said Dan, "This not only made it easy but it's another reason this smoker lasts so long."
Dan chemically cleaned all the nuts, bolts, handles, and etc. He also manually cleaned the wheels to bring them back to like new condition.
This YS640 came with a factory silver cart. Dan found that it was in pretty good shape once it was cleaned up. But he loves the signature Yoder orange so he decided to give the cart a fresh coat. And last, the Yoder Smokers plaque on the front and back of the cart need to be refinished. So Dan stripped them down with an angle grinder and wire wheel. He rust treated the plaques before painting them a nice gloss black.
Time to cook
Now that his project is complete, Dan has just completed a 3 stage burn in at 180°, 225° and 350° to set the high heat paint. This was done on 3 separate days so it went through the full heat/cool cycle. With Memorial Day approaching Dan tried out his new pellet grill on some pork. "It worked flawlessly and held the temps within a few degrees," said Dan
Dan plans to use his new smoker at least once a week in the Spring. Summer and Fall. In the winter probably less than once a month but it depends on how cold it is.
After all the hard work, most people wonder if it was worth the effort.
Dan says, "These days there is a price to pay for quality but when something is well built, by hard working folks, has an outstanding feature set and lasts forever, it's a simple purchase."
And now you have the judge's opinion. What are you waiting for?
---
---