Chef Tom of All Things Barbecue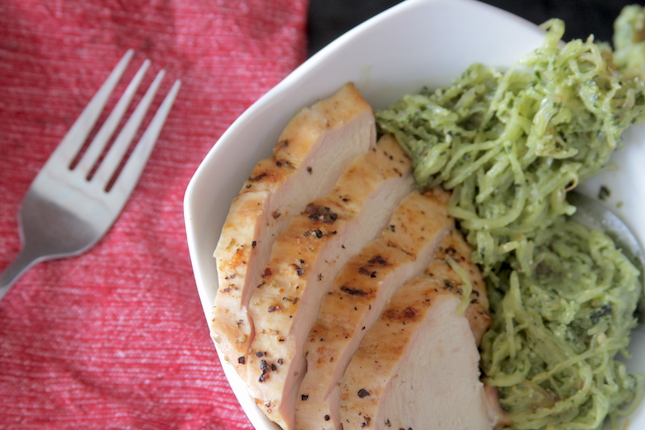 Impressive enough to serve up at a dinner party, roasting spaghetti squash is a very simple dish. As an alternative to pasta it's a delicious. Served with this authentic pesto recipe you'll have a nutritious meal with the taste of Italy.
Spaghetti Squash with Grilled Chicken and Pesto Recipe
Ingredients
1 spaghetti squash
2 boneless skinless chicken breasts
Olive oil
Salt and Pepper
Cattleman's Grill Italiano Seasoning
For the Pesto:
2 cups (about 2 oz before picking leaves) packed fresh basil leaves
1/4 cup pinenuts, toasted
2 cloves garlic, chopped
1 tsp lemon juice
1/4 cup extra virgin olive oil
Directions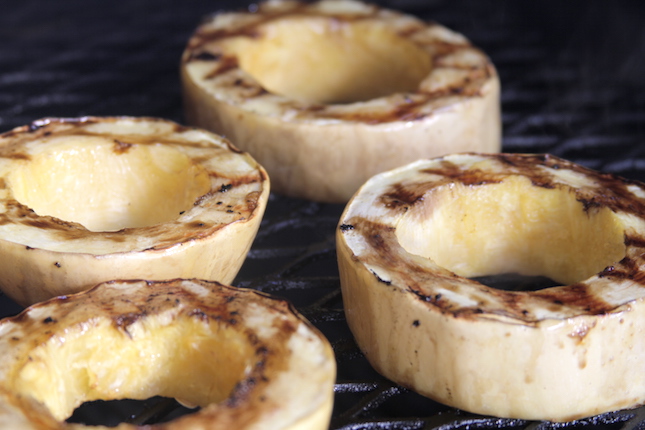 Start with the pesto. Combine all pesto ingredients in a food processor and process until smooth. Season with salt. Store in the refrigerator until ready to use.
Preheat your Yoder Smokers YS640 Pellet Smoker to 400ºF.
Cut the spaghetti squash horizontally into 1-2 inch rings. Run a paring knife around the inside of each ring to remove the seeds. Rub the flesh with a light coat of olive oil. Season with salt. Place directly on the grates of the cooker. After 20 minutes, flip the squash. Cook 20 minutes more, or until tender.
Remove from cooker. Rest 10 minutes. Remove the skins and use a fork (or your hands) to separate the strands of the flesh into long "noodles." Toss the spaghetti squash in the pesto. Season with salt and pepper.
While the squash is cooking, give the chicken breasts a squeeze of lemon, then season with Cattleman's Grill Italiano Seasoning. Place on the grill and cook until the internal temperature reaches 160ºF. Check internal temperature with an instant read thermometer like the Maverick PT-100. Remove from the cooker, rest 5 minutes. Slice breasts. Serve sliced breasts over the spaghetti squash with pesto.