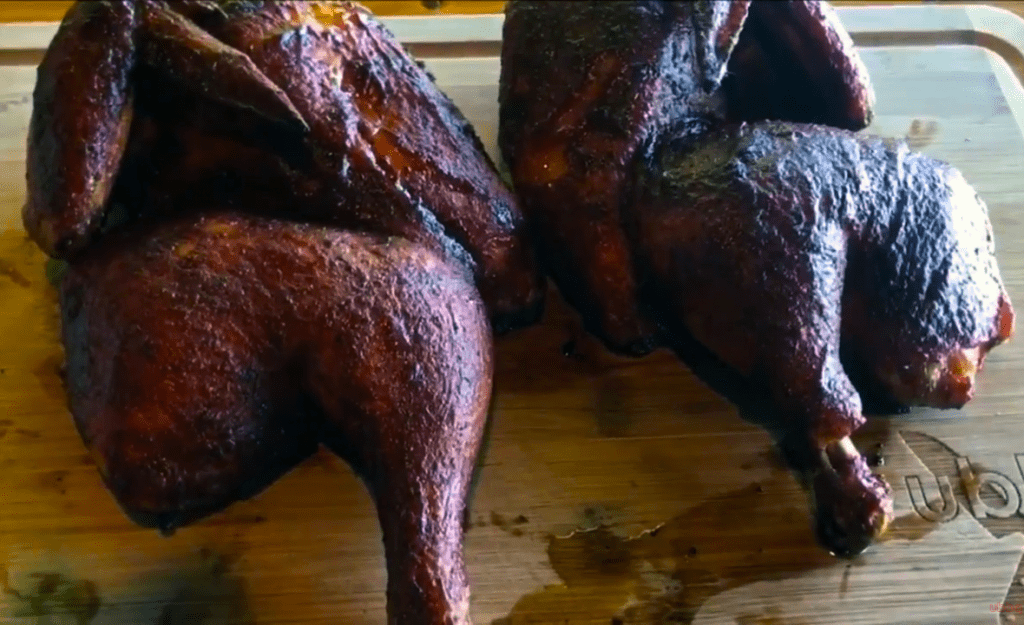 Quick & easy this is the go-to recipe if you want to make delicious chicken halves on your Yoder Smokers.
Smoked BBQ Half Chicken Recipe
Ingredients
1 whole chicken
Plowboys Yardbird Rub (or favorite bbq rub)
Plowboys KC Crossroads BBQ Sauce (or favorite bbq sauce)
Directions
Remove the backbone of the chicken by using a sharp knife or a pair of kitchen scissors and cutting down each side of the backbone from neck to tail. Flip chicken over and split in half by cutting between the breasts. Apply a little extra pressure with a sharp knife to cut through the breastbone.
Remove any excess skin & fat 4-pat chicken as dry as possible with paper towels to help crisp the skin up during the cooking process.
Season with Plowboys Yardbird Rub or your favorite bbq rub. (you can spray the chicken with a little cooking spray to use as a binder for the rub while also helping crisp the skin during the cooking process)
Add chicken halves to 350° smoker. When chicken breasts reach an internal temp of 150°, warm up Plowboys KC Crossroads BBQ sauce (or your favorite bbq sauce). Glaze chicken halves with the warmed bbq sauce when the breasts reach an internal temperature of 155°
Pull chicken off the smoker when the breasts reach 165° 10-allow chicken to rest for 5-10 minutes and begin breaking it down
---
Video by Unhinged BBQ.