Tri-Tip Street Tacos
Unhinged BBQ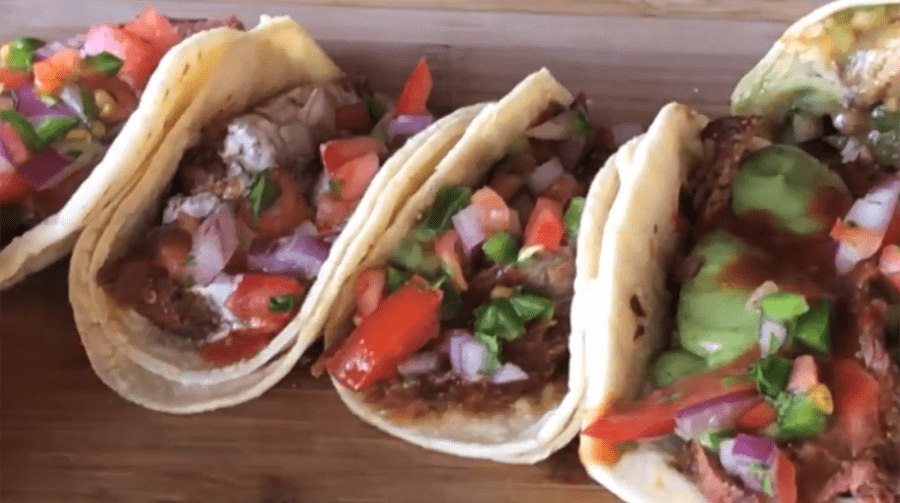 This recipe comes from Unhinged BBQ. These tacos are made with tri-tip beef and garnished with home made guacamole sauce. Juicy meat combined with fresh veggies and guac make this a street taco to remember!
Tri-Tip Street Tacos Recipe
Ingredients
2-3 lb tri-tip beef roast
Killer Hogs AP Rub (salt, pepper, garlic)
Cattleman's Grill 8 Second Carne Asada Rub
Guacamole Sauce
3 avocados
1 jalapeno
1/3 cup cilantro
2 garlic cloves
1 tbsp lime juice
Sea salt
1/2 cup water
Directions
Make guacamole sauce by adding the ingredients to a food processor.
Slowly blend in 1/2 cup water to finish texture.
Trim all fat and silver skin off tri-tip roast then season with Killer Hogs AP Rub and Cattleman's Grill 8 Second Carne Asada Rub.
Grill over 425° direct heat for 5 minutes on each side then move over to indirect heat and take roast to 125° internal temperature. After roast reaches 125°, pull from grill and allow 15-20 minutes to rest.
Slice thin against the bias.
Warm corn or flour tortillas on grill and build your tacos.
78 Views