Unhinged BBQ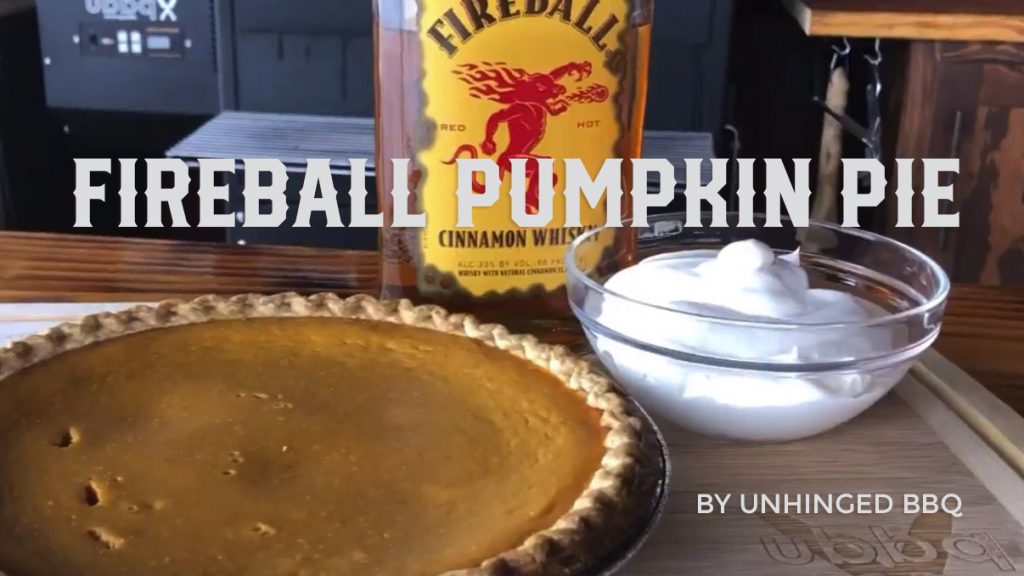 Add a little kick to your pumpkin pie with the hot cinnamon taste of Fireball Whiskey! Cooked up on the Yoder Smokers YS640, this pumpkin pie recipe takes it up a notch with the smoky flavor from the Yoder Smokers combined with a nip (or two) of Fireball. This recipe brought to us from Unhinged BBQ – directions and video below for two 9″ pies.
Fireball Whiskey Pumpkin Pie Recipe
Ingredients
15 oz canned pure pumpkin
9 oz evaporated milk
2 eggs
3/4 cup sugar
1/2 tsp salt
1 tsp pumpkin pie spice
3 oz Fireball Whiskey
Whipped Cream
1 cup heavy cream
3 tbsp powdered sugar
1 tbsp Fireball Whisky
Directions
Whisk the eggs then mix in all the pie filling ingredients listed above and pour into the pie shells.
Bake on the Yoder Smokers YS640 at 375° for about 50-60 minutes or until a toothpick comes out clean and the filling is set.
Cool to room temperature then refrigerate for at least 3 hours. Serve chilled – this pie must be served cold!
While your pie cools, add heavy cream to food processor and whisk cream until fluffy. Add powdered sugar & Fireball Whiskey until soft and peaks form.
Slice the pie and top with a generous dollop of cream – enjoy!