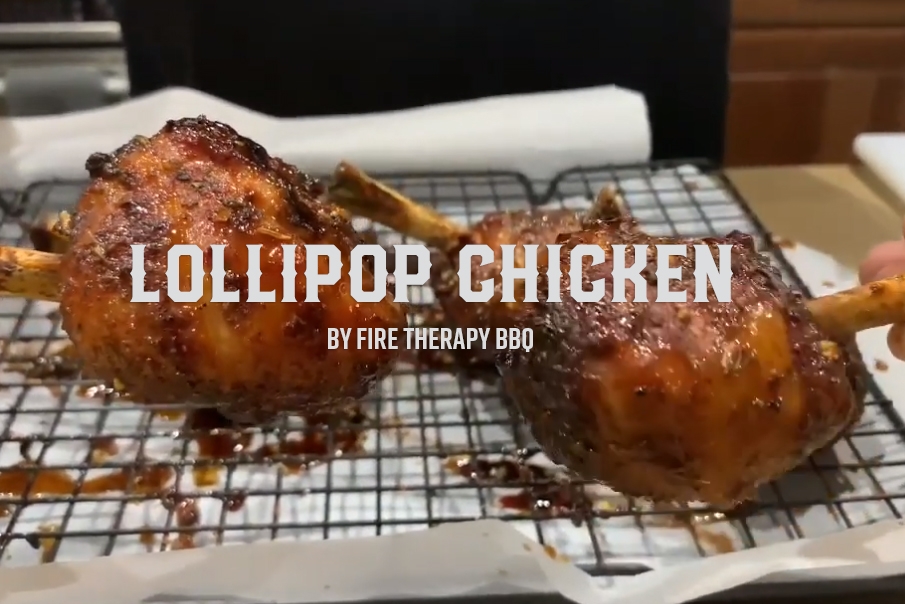 Lollipop chicken is one of those fun looking dishes that makes a great appetizer or fun presentation for lunch or dinner. The key is knowing how to prep the chicken legs for the cook and using flavors that will delight the palate. Jason Wiljanen of Fire Therapy BBQ cooked up these lollipops on his Yoder Smokers YS640 and shows you how to easily do the same in your grill or smoker.
INGREDIENTS
16 – 20 chicken legs (drumsticks)
Poultry Therapy Spice (or your favorite rub)
1 stick of salted sweet cream butter
Bourbon Beer Glaze (or your favorite sauce)
GrillGrates
DIRECTIONS
Start by frenching the chicken legs as demonstrated in the video below
Allow the chicken legs to air drive for about an hour then rub with seasoning. While waiting, preheat the Yoder
Smokers grill to 225º. Place a stick of butter into a foil pan and place on the grill to melt.
Place the prepared lollipops meat side down (standing) in the foil pan. Cook until internal temperature reaches 165º.
Remove the lollipops from the pan and brush or coat with the Bourbon Beer Glaze (or your favorite sauce). Increase the temperature on the grill to 325º – 350º. Stand the lollipops directly on the GrillGrates and cook until they reach an internal temperature of 175º. Remove and enjoy!