Joe Martinez of Smokin's Joe BBQ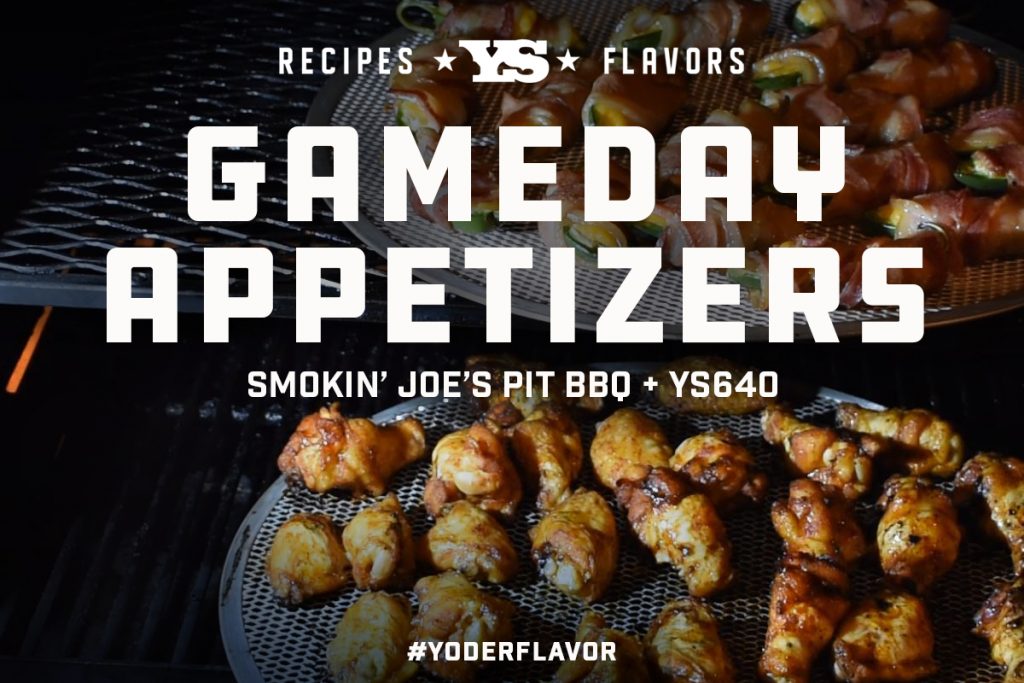 Whether you're a football fan or just love getting friends together you know that having good food on hand brings people together. In this recipe, Joe Martinez of Smokin' Joes Pit BBQ smokes up some favorite game day appetizers: bacon wrapped jalapeño poppers, honey chipotle chicken wings and smoked meatballs. This cook is really simple to prepare and cook, especially on a pellet smoker like the Yoder Smokers YS640 because you can set the temperature and walk away. Set up your Yoder Smokers pellet grill to 250º and while it heats up, you can start on the appetizers. They will all go in at the same time.
Jalapeño Popper Recipe
Ingredients
9 jalapeños
1 block of cream cheese
1 cup sharp cheddar cheese
1 package of thick cut bacon
Directions
Cut the jalapeño right down the middle lengthwise. If you can cut the stem in half that's even better because it's like a built-in handle. Using a spoon, scoop out the seeds and the veins from the jalapeno. Take the cream cheese and spread it inside the jalapeño, keep the cream cheese flush with the top of the pepper. Add the shredded sharp cheddar cheese on top and press into the cream cheese. Wrap the entire jalapeño with bacon. Place on a baking sheet.
Smoked Meatball Recipe
Ingredients
1 cup of Italian style bread crumbs
1 tablespoon of garlic jalapeño seasoning
2 tablespoons of Victory Lane Nutty Pecan spice
1 lb ground sausage
1 lb lean ground beef
Directions
Combine the sausage and beef in a bowl. Add the breadcrumbs and spices. Mix thoroughly by hand until everything is evenly distributed through the meat. Roll into 1″ meatballs. This will make about 36 meatballs. Put them on a baking sheet.
Honey Chipotle Chicken Wings Recipe
Ingredients
25 chicken wings (whole)
2 tablespoons of olive oil
Garlic jalapeño seasoning
Victory Lane BBQ Honey Chipotle Rub
Directions
Rinse the chicken wings and pat dry. Cover the wings with the olive oil, just enough so the rub will stick to them. Sprinkle the wings with garlic jalapeño seasoning, then generously apply the honey chipotle rub. Be sure to get all over the chicken pieces. Put them on a cooking sheet. Remember, friends don't let friends fry chicken wings!
Take all of the uncooked appetizers out to the grill and set them in with the jalapeño on the top shelf. Place the wings and meatballs on the lower shelf. They may need to cook up to an hour but check on them at the 30 minute mark. When the chicken is at 165º it's ready to come off the grill. Cook the jalapeños until the bacon is crisp. And the meatballs to the same temp as the chicken. You can dip the wings in sauce if you like, or just eat them as they are – either way they are delicious!