Garlic Herb Bone Marrow God Butter Crusted Prime Rib
Fire Therapy BBQ shows you how to make butter using bone marrow to coat a prime rib roast.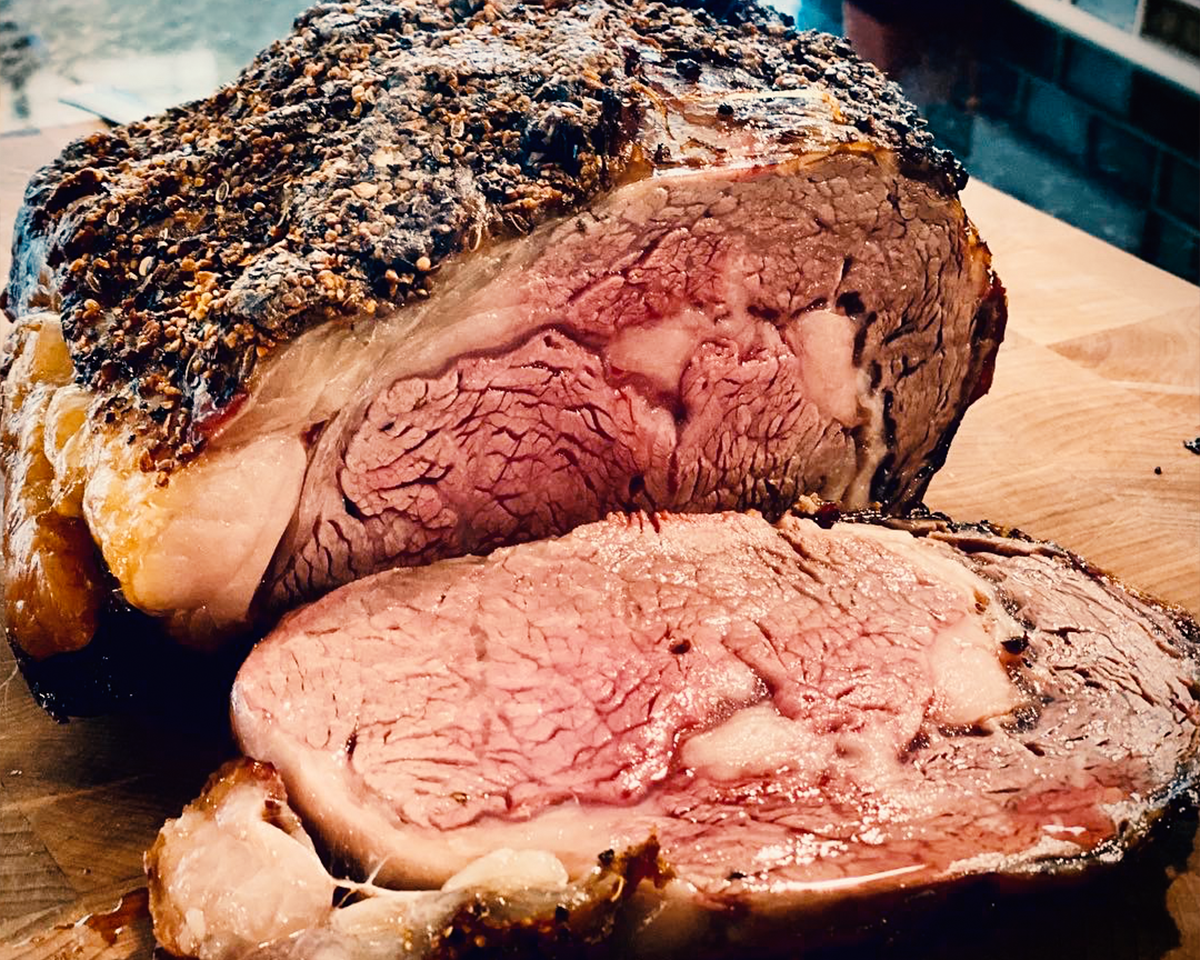 In this three-part recipe, Jason Wiljanen of Fire Therapy BBQ shows you how to make butter using bone marrow to coat a prime rib roast. Then he cooks it up on his YS640. The final product is a juicy roast with an unbelievably good taste.
The first step in this recipe is to make the bone marrow butter (aka God Butter).
Garlic Herb Bone Marrow God Butter Prime Rib Recipe
Ingredients
4 Femurs (Split Lengthwise)
1 tsp Ancient Sea Salt
1 tsp Course Black Pepper
1 tsp Thyme
1 tsp Ancho Chili
2 Sticks Salted Sweet Cream Butter
Avocado oil
Directions
Heat your smoker to 350º using oak pellets. While the pit is heating up, mix the spices together in a bowl. Take the femurs and lay them out on a baking sheet and anchor them in place with some tinfoil spirals. Put a bit of avocado oil on each of the femurs to coat. This will help bind the spices. Sprinkle the spice mixture on the femurs. Put the femurs on the grill for about 20-25 minutes. When the marrow is bubbling test with a toothpick (similar to testing a cake for doneness). When the toothpick comes out clean the marrow is done cooking, pull the femurs from the grill. Put the butter in a bowl and gently scoop the marrow out of the femurs, add to the butter. Work the bone marrow into the butter until thoroughly mixed. Put into the refrigerator until it sets up a bit, about 30 minutes.
The next step is to make the coating that will go on the prime rib roast.
Ingredients
5 cloves of garlic
1 tsp tarragon
1 tsp dill weed
1 tsp oregano
1 tsp thyme
1 tsp basil
Bone marrow butter (from above)
Mix all ingredients together. Set the roast out so it reaches room temperature (about an hour). This will allow the butter to spread smoothly onto the roast. Spread the butter mixture all over the roast except the bone side. Put in the refrigerator for about 30 minutes so the butter can form a more solid crust around the roast. Now you're ready to cook.
Preheat the Yoder Smokers to 275º. Put your roast on the grill over some foil. Cook until the internal temperature reaches 125º.
Let it rest then cut and serve. This is an unforgettable taste sensation. Enjoy!