My Yoder Story: Love at First Cook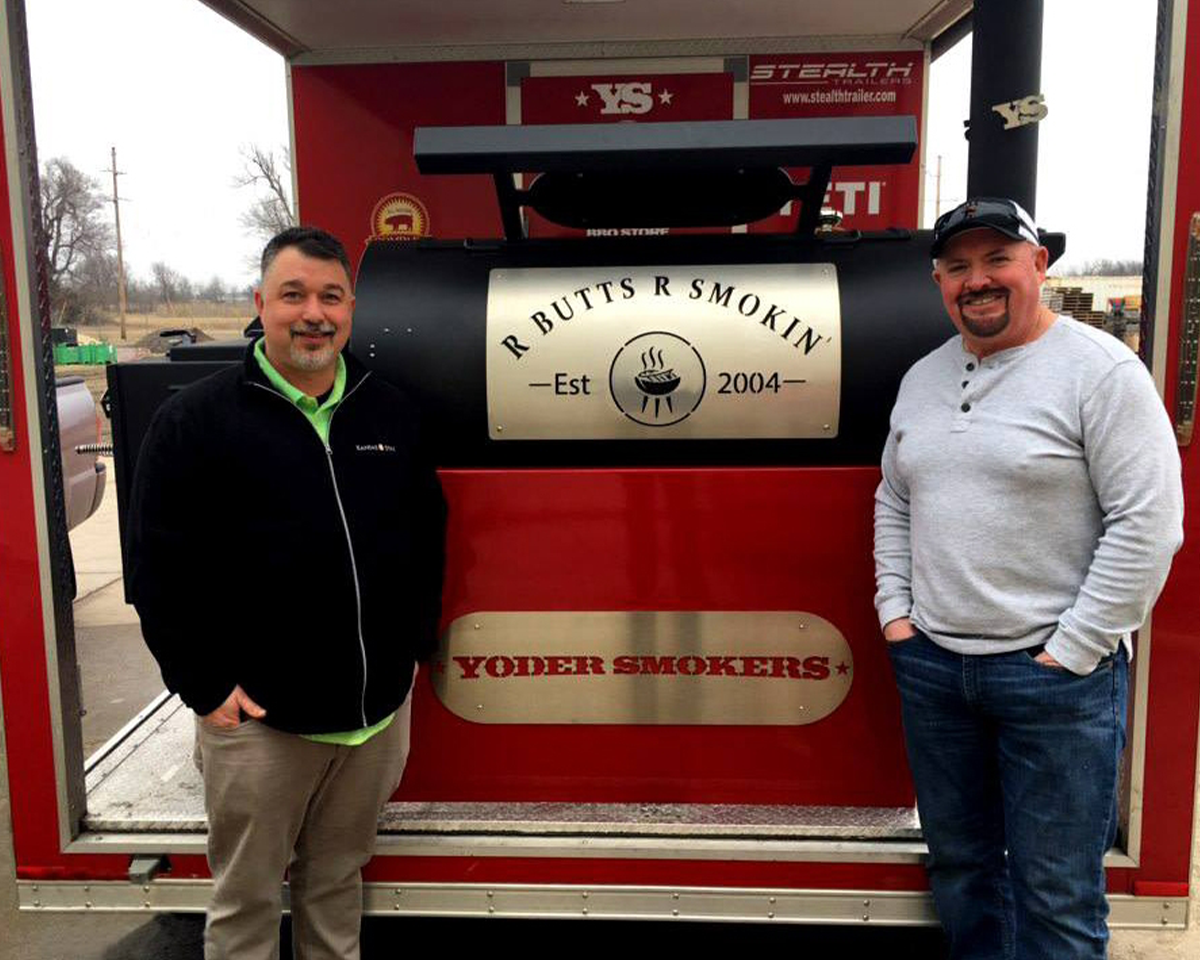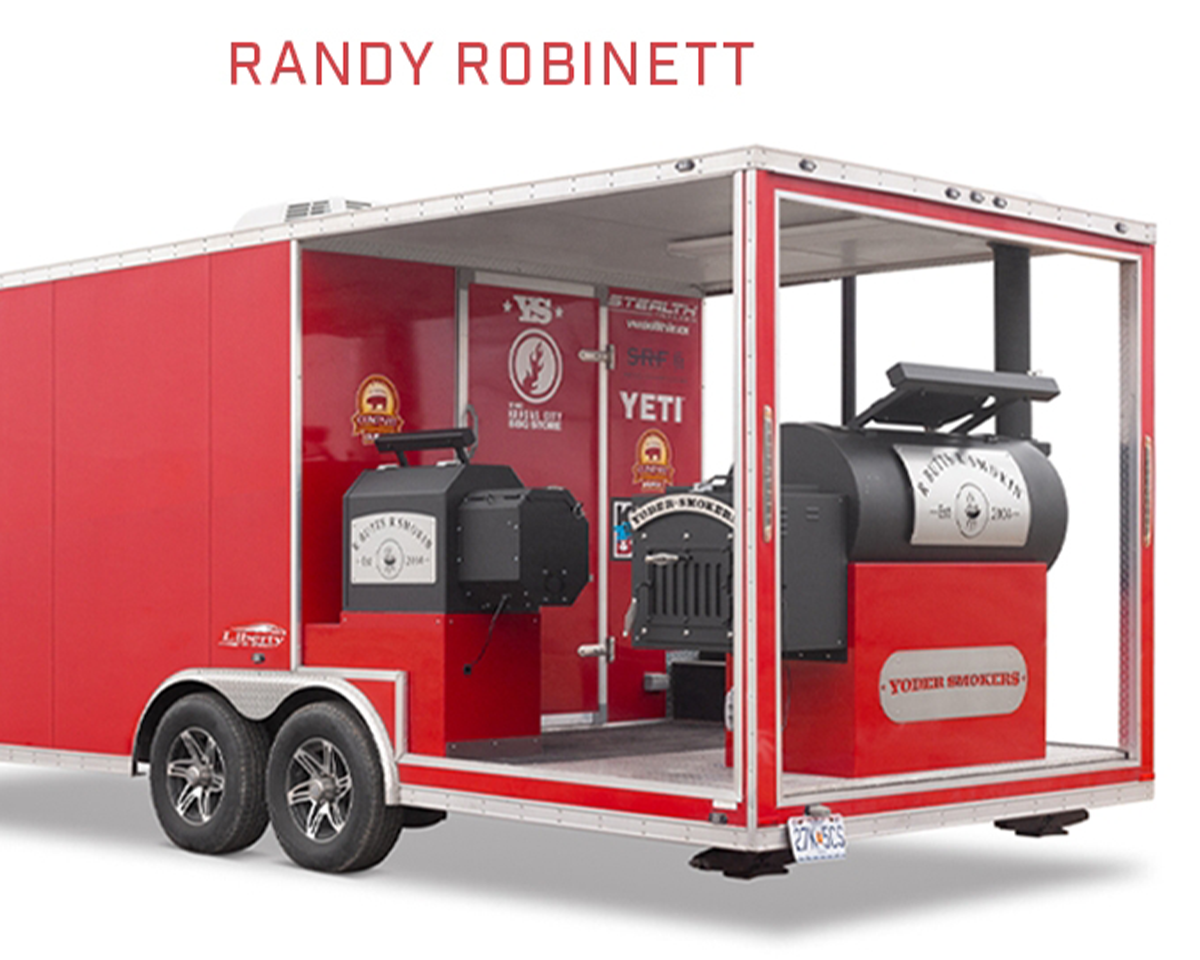 If someone would have told award-winning BBQ competitor Randy Robinett two years ago that he'd primarily be cooking on a pellet grill, he would have laughed.
Successful BBQ competitor now prefers Yoder Smokers pits over all others
But since being introduced to Yoder Smokers pellet grills, the co-owner of R Butts R Smokin' – a Kansas City-area BBQ company and competition team – has sold his other grills and is finding great success cooking exclusively on Yoder pits.
Whether it be smoking, baking, grilling or searing, Randy said he's discovered Yoder Smokers pellet grills do it all, and he's impressed with the pits' quality and consistency, along with the award-winning flavorful food they produce. He uses Yoders on the competition circuit, at home and for BBQ catering he offers for weddings and special events.
"Even my charcoal grills – I got rid of them," said Randy. "My Yoders have amazing versatility. I can grill as good of a steak on them as I ever have."
And the flavor …
"I am so impressed with the flavor I get out of my Yoders," he said. "I use a combination of pecan and cherry pellets. I get amazing color, perfectly-cooked meat and a nice, clean smoky taste. I'm just thoroughly impressed by the quality of food these things are putting out."
First introduction
The winner of 19 BBQ competition grand championships, R Butts R Smokin' rolls into BBQ contests with a 22-foot bright red trailer, featuring a 14-foot enclosed area and an 8-foot porch. After the last BBQ contest season, Randy said R Butts was looking to upgrade their trailer with new grills.
"I was wanting a change," he said. "I had cooked on the same smoker since 2007. It was getting old and having issues."
A good friend recommended Yoder Smokers, and after doing some research and talking with others, Randy was convinced.
R Butts had Yoder Smokers customize the porch area with a YS480 pellet grill and a Cimarron pellet smoker, both mounted on custom storage enclosures. Randy picked up the trailer from Yoder Smokers' manufacturing facility in early March and didn't skip a beat in winning more grand championships.
>In late April, R Butts was awarded the top honor of Grand Champion at the Rock N' Ribs BBQ Festival in Springfield, MO, – the first time the team competed with their upgraded rig. They also earned second place in chicken and brisket, 7th place in pork and 8th in ribs.
Competing against 38 other tough competitors, including the top BBQ cooks in the country, Randy said it was taste that pushed R Butts to the top. Judges gave the team top marks in flavor.
"My new setup is simply amazing," he said. "I cook brisket, pork butts and ribs all on the Cimarron. The meat that comes off my Cimarron is moist, flavorful and has amazing color."
The YS480 produces perfect chicken, Randy said.
"The YS480 is an amazing chicken cooker," he said. "It's hard to get chicken skin to render out so you have bite-through skin. With the YS480 that has not been an issue at all. It seems that the design of the YS480 was meant to be a chicken cooker."
Randy has been so taken with Yoder pits, he bought a YS640 pellet grill for catering and his own personal use and recommends the grills to friends.
"Two of my buddies have bought a 1500 and a 640," Randy said.
The beginning
Randy and a college buddy formed R Butts R Smokin' in 2004 as a competition BBQ team. The operation soon morphed into a full-fledged business, which now includes the sale of six signature BBQ rubs Randy developed in his kitchen.
"I never would have dreamed that we would have a line of products we sell all around the world," he said.
After more than a decade of competing, Randy said he was slowing down in the world of BBQ competition. But being introduced to Yoder Smokers has reinvigorated him.
"It's put a fire under my butt, and I want to do more contests," he said.
---
---