By Unhinged BBQ / YS640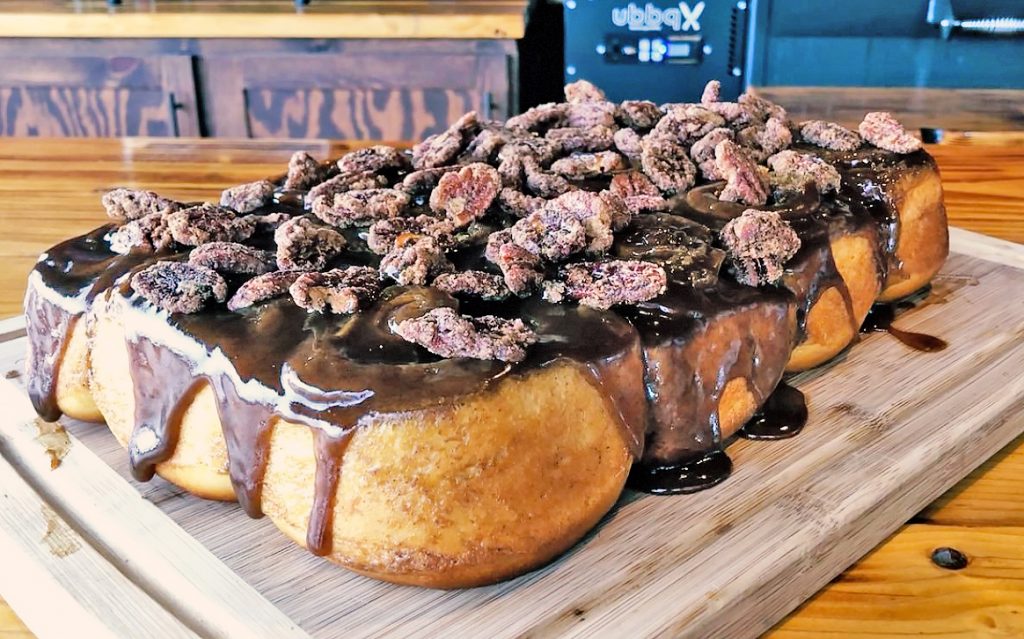 A perfect recipe to enjoy on a cool fall afternoon or winter morning.
Full video recipe: bit.ly/2MphuVT
Fireball Caramel Rolls with Candied Pecans Recipe
Ingredients
Dough
2 1/4 teaspoon dry yeast (14oz pkg)
1 cup warm milk (microwave 1 min)
1/2 cup granulated sugar
1/2 cup melted margarine
1 teaspoon smoked salt
2 eggs
4 cups flour
Smoke Pecans
1 cup pecan halves
1/2 cup maple syrup
1/4 cup packed brown sugar
1 teaspoon cinnamon
1 teaspoon smoked salt
Fireball Caramel
1 stick margarine
2 cup packed brown sugar
1/2 teaspoon cinnamon
3 shots Fireball Cinnamon Whisky
3/4 cup heavy cream
Filling
1 cup packed brown sugar
2 1/2 tablespoons cinnamon
1/2 cup softened margarine
Directions
Dough
Dissolve yeast in warm milk in stand mixer bowl.
Add sugar, margarine, salt, eggs & flour and mix well.
Knead dough until it forms a smooth ball (6-8 mins).
Cover dough ball in a greased bowl, and allow the dough to rise and double in size (60-90 mins).
Smoked Pecans
Pour 1/2 cup maple syrup over 1 pecan halves and toss to coat.
Add 1/4 cup brown sugar, 1 tsp cinnamon and 1 tsp smoked salt and toss until evenly covered.
Spread coated pecans evenly over grill mat.
Smoke at 250° until pecans have dried out for about 45-60 minutes.
Fireball Caramel
Add 1 stick margarine, 2 cup brown sugar, 1/2 tsp cinnamon and 3 shots Fireball in sauce pan and boil for 2 min.
Turn off the heat and stir in the cream.
Pour the caramel sauce in a 9" x 13" baking pan.
Filling
Combine brown sugar and cinnamon in a bowl.
The 1/2 cup softened margarine will be spread on the rolled out dough.
Rolls
After dough has doubled in size, turn out on a lightly floured surface and roll out into a 21"x16" rectangle.
Spread 1/2 cup softened margarine over rolled out dough.
Sprinkle the brown sugar-cinnamon mixture evenly over the entire dough surface.
With the rolling pin, lightly roll over the brown sugar-cinnamon mixture.
Working carefully, from the top long edge roll the dough down to the bottom edge (or vice versa).
Cut dough into 1 3/4" slices & place on top of caramel in 9" x 13" baking pan.
Allow rolls to rise for 1 hour.
Bake at 400° for about 30-40 minutes or until they are light golden brown.
Brush 4 tbsp melted butter on rolls and allow them to cool for 5-10 minutes before turning out.
Top with smoked pecans.