Gentry's BBQ
Gentry loves passing along his years of knowledge to customers and tells them when they are considering purchasing a Yoder.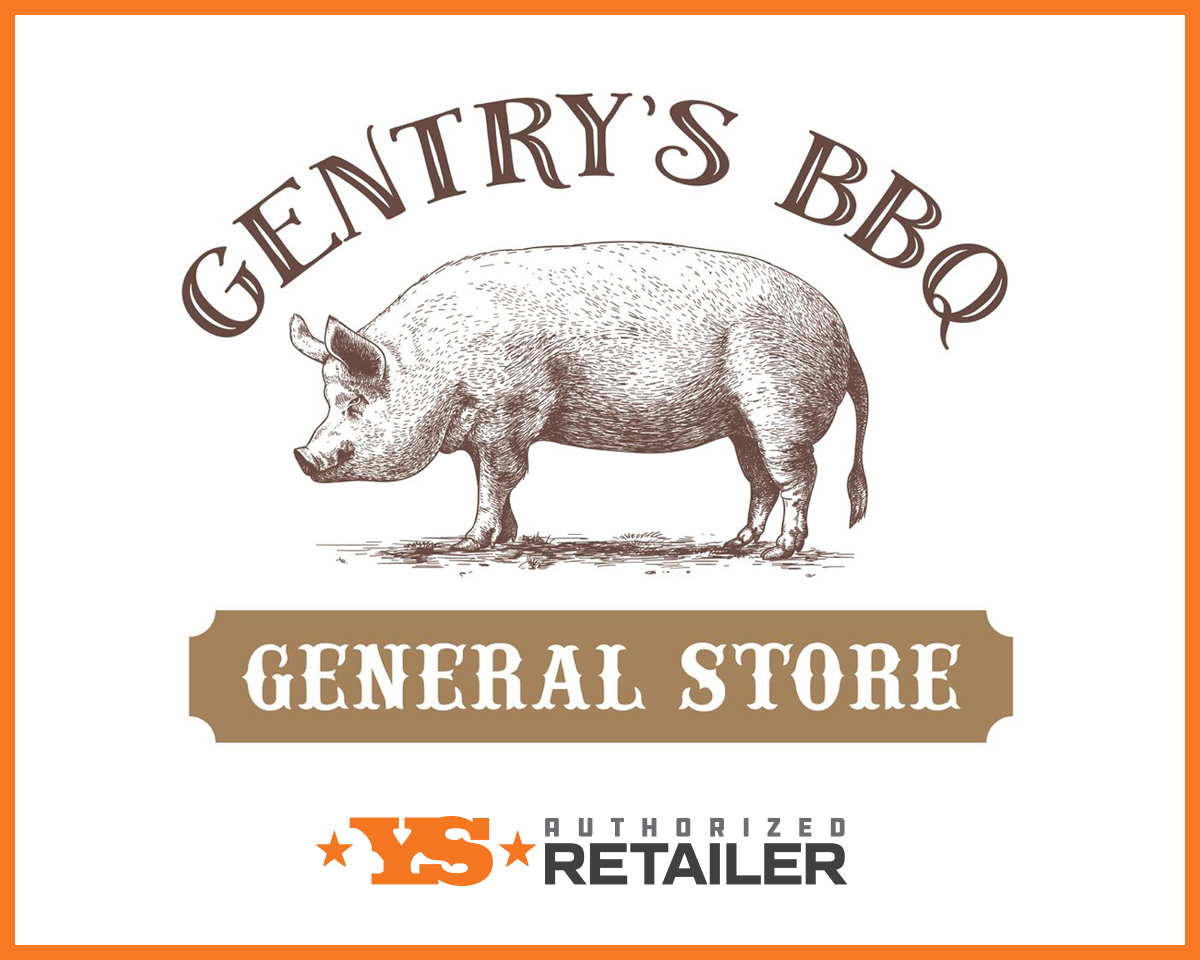 Welcome to our second installment of Yoder Smokers dealer stories; a series of profiles on YS dealers throughout our network. This time around, we get to know award-winning pitmaster Chris Gentry, owner and operator of Gentry BBQ General Store.
Chris' journey into barbecue began almost nine years ago, just shortly after his father passed away. He'd decided to purchase a barbecue smoker to ease his focus away from his loss, and not long after, it became a new passion that fueled a new business venture.
After years of honing his craft, he started Gentry's BBQ with his signature bottle of Roscoe's Mop sauce; a North Carolina style vinegar-based sauce. That soon grew into a collection of ten different regional sauces and rubs, all while making the rounds on the competitive BBQ circuit. From there, the momentum built, and he was making lifelong friendships within the industry through events, competitions, and catering.
From those years and relationships Chris became a world-class barbecue pitmaster, leading him to sell his business of 13 years and to go all-in on opening Gentry's BBQ General Store in 2019. In just three short years, and during a pandemic, Chris actually outgrew his location and needed more space. Now in 2022, Gentry's has moved into a new 2,100 square foot location in Winter Park, FL, just outside of Orlando. And business keeps getting better.
Gentry feels fortunate enough to have helped so many people elevate their cooking with his barbecue "pop-ups" and classes. The new location allows him to have the extra room to do even more, including in-house cooking demos to showcase his signature recipes and products, such as Yoder Smokers pits.
Chris started out on a Yoder Smokers YS1500 in 2019 and has been using his championship-winning skills to churn out some amazing 'cue. He says, "Brisket is my favorite thing to cook on my YS1500, it's a brisket slaying machine."
His advice when cooking brisket or anything else on a Yoder? "Let it do what it does and don't overthink it. Yoders are the highest quality products on the market and produce phenomenal results."
When it comes to his favorite Yoder Smokers pit, it's a tough one. "That's tricky! I love my YS1500, while our most popular selling unit is the YS640. Ultimately, I think my favorite Yoder product is the 24×48 Charcoal Grill. I love the simplicity, versatility, and uniqueness of it. It's a very cool product."
Gentry loves passing along his years of knowledge to customers and tells them when they are considering purchasing a Yoder to really take a look at what's out there. "If you consider your options and do your homework, I trust you'll purchase a Yoder. Being made in America is very important to me as it is to many of my customers. The build quality is second to none and the versatility matches anything on the market. It's by far our best-selling grill in the store and I cannot say enough great things about the product or the team behind the product!"
We want to thank Chris and the whole crew at Gentry's BBQ General Store for their dedicated partnership and time to share a little bit about themselves. If you find yourself in Central Florida, be sure to swing by and see Chris' extensive line of Yoder Smokers, as well as his vast line of accessories and specialty meats. Chris will be happy to help you and share his knowledge to make your next cook its best. For more about Gentry's BBQ General Store visit https://www.gentrysbbq.com